Buffalo 256MB PC3700 DDR Memory Review
---
As a performance enthusiast, I know that the search for the "ultimate" overclocker memory is a never ending battle. While we've been happily testing away with Corsair XMS3500 CAS2 memory modules for the last little while, we've always kept our eyes open for even more overclockable memory modules.
Buffalo Technology is not a newcomer to the memory market, they've been manufacturing and selling memory for the last 15 years. While the big guns of Kingston, Mushkin and Corsair only have PC3200/3500 rated memory in their lineup and OCZ and GeIL recently announcing PC3700 DDR, we were surprised to receive some PC3700 DIMM's from Buffalo Tech for testing.
With a PC3700 (DDR466 at CL3) speed rating the Buffalo memory is easily the fastest rated memory we've tested to date at the PCstats labs. Whether the memory can actually reach those speeds is another question, but we'll soon find out!
What's even more surprising is the retail price of the memory! Amazingly two sticks of 256MB Buffalo PC3700 memory can be had for just $194 CDN ($130 US)! That's about $75 CDN cheaper then then two sticks of 256MB Corsair XMS3500 CAS2 and about $120 CDN cheaper then two sticks of 256MB OCZ PC3700 DIMM's! Getting back to the real world now though, value and overclocking usually mix like oil and water and we have not had much luck with value memory in the past. We were certainly hoping our experiences would be different this time around with the Buffalo PC3700 memory.
A familiar face...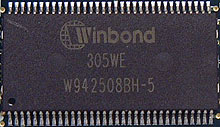 While the DRAM is only rated to run at 200 MHz FSB (1000MHz / 5 = 200 MHz), we were not surprised to see Buffalo decided to go with Winbond BH-5 DRAM for their PC3700 modules. After all, Corsair uses the Winbond BH-5 DRAM on their XMS3500 CAS2 DIMM's and we have no problems pushing them to PC3700 speeds on our reference Epox 8RGA+ or Abit IT7 MAX2 Rev2 motherboards.
Buffalo forgoes memory heat spreaders that are usually found on most performance memory modules. Since RAMsinks for DDR memory are really only for show, this is not really a bad move on their part and in the end it saves the user a bit of money.
Since the Buffalo memory has a PC3700 rating (albeit at CL3) we had some high hopes as the first module of memory was installed into our reference Epox 8RGA+ testing motherboard. The FSB was immediately raised to 200 MHz while maintaining the most aggressive memory timings.
Not surprisingly the Buffalo PC3700 managed those speeds without even breaking a sweat. We next bumped the memory up to 210 MHz and that was when we began to have a few stability problems. Luckily that was nothing a slight memory voltage increase (raised memory voltage to 2.77V) couldn't fix.
At around 214 MHz we again had a few stability problems with 3DMark2001SE and had to up the memory voltage to 2.9V. Unfortunately our overclocking adventures on the AMD test rig maxed out at 215 MHz FSB, but we were using the most aggressive settings of 2-2-2-5. Using SPD timings (3-4-4-8) we were able to push the memory all the way up to 225 MHz while keeping the system 100% stable. Of course because of the lower timings, performance at 225 MHz was worse then at 215 MHz FSB with the most aggressive timings. Not quite able to hit the PC3700 rating but (DDR466 which means 233 MHz FSB) but very close! Oh I think this is a worthy note, officially these DIMM's are not meant for "Dual Channel", but still they worked flawlessly together.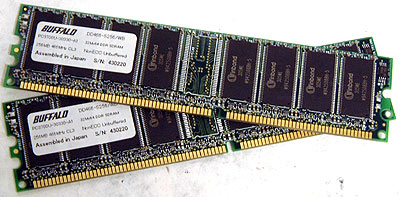 Because we didn't hit PC3700 speeds with our AMD test system, we were hoping to get some better results with our Intel test system. With a P4 1.6A and the 3/4 memory divider enabled, we began to raise the FSB. We easily broke the 200 MHz memory frequency mark (150 MHz FSB).
At around 210 MHz we ran into a few stability problems and had to raise the memory voltage to 2.8V to help stabilize things. We hit the wall at 220 MHz memory speed (165 MHz FSB), no matter what we did we just could not get the system go higher and increasing the voltage did not help at all.
A quick explanation on testing methods...
In the last little while we've gotten a few comments on our memory testing methods. Mainly, some out there seem to think that we should run the memory frequency async on the nForce2 platforms (faster then the FSB) so we can run the memory at their "native" speed. It's funny how quickly people forget, it's common knowledge that nForce2 performs best when the FSB and memory are running at the same speed. Here are a few numbers for those disbelievers out there. ;-)
Keeping the memory timings the same (2-2-2-5) and running 3DMark2001SE, at 166/333 (sync) we score 16113 while at 166/400 (async) we get just 15758. A loss of around 400 points despite the availability of more bandwidth to the system. Wait, there's more! With Quake III Arena, in its fastest mode the system running 166/333 (sync) gets 378.3 fps while 166/400 (async) gets 358.2 fps.
We here at PCStats always test for best performance and we will continue running our memory in sync with the FSB as long as we're using a nForce2 testing platform.