Up close and personal with the GA8PE800 Ultra
| | |
| --- | --- |
| | Looking ahead to future peripherals, the Gigabyte GA-8PE800 Ultra comes with an external two port Serial ATA bracket and power connector. |
While most motherboards on the market can rival the Gigabyte P4 Titan GA-8PE800 Ultra in terms of actual hardware features, not many bundle their motherboards with all the required accessories.

Gigabyte include everything that you'll need to hook up any device to your computer (other then a second molex to Serial ATA power connector).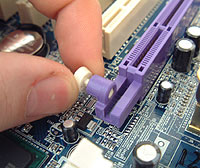 The GA8PE800 Ultra even goes as far as to include a mounting bracket that allows you to connect Serial ATA HDD's without having to open up your case, just plug and play since Serial ATA is hot swapable (requires an OS that supports hot swapping like Windows XP). For people who back up their data regularly, this is an extremely useful feature!
This may seem trivial (and I suppose it is), I also really like how Gigabyte rounded the four corners of the motherboard PCB - don't ask my why, it just 'feels' better I guess.
Unlike a lot of other motherboards on the market, the AGP lock employed on the Gigabyte GA8PE800 Ultra is one of the better ones; instead of manually locking your videocard in, you just place your videocard in the AGP slot and the spring loaded lock will snap into place. When you want to remove it, just pull on the tab back. Easy as pie.
We've all heard all the horror stories about power outages while flashing motherboards, but with the GA-8PE800 Ultra, you never have to worry about a dead motherboard due to a bad BIOS flash. The reason for this is that there are actually two BIOS chips on the motherboard adjacent to the green IDE-RAID sockets. This is a feature more and more manufacturers are starting to support these days.
If one BIOS is corrupted during a BIOS flash it can be 'recovered' by switching to the backup BIOS.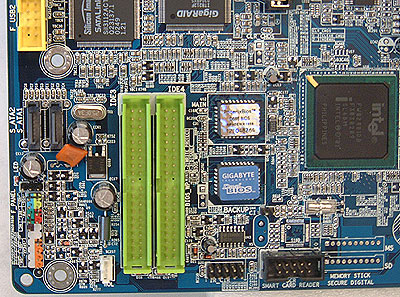 The only thing I have to complain about the board is in the BIOS. For some reason the memory timings of the system RAM cannot be adjusted. Without the ability to adjust memory timings, the Gigabyte P4 Titan GA-8PE800 Ultra's performance was not up quite to par with the other i845PE motherboards we tested since we always test with most aggressive memory timings enabled. Perhaps a future BIOS revision will shortly resolve this small oversight for the overclockers and tweakers out there.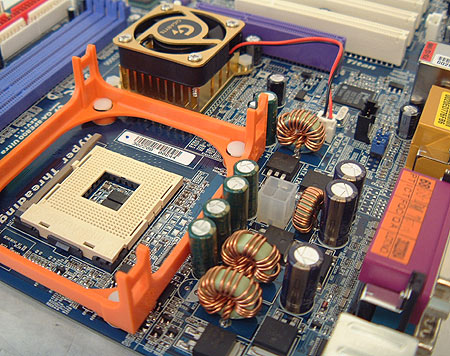 IDE/Serial ATA RAID Explained
IDE RAID 0 is not really considered a true RAID since there isn't any data redundancy. RAID 0 takes two drives of the same size/configuration and stripes them, meaning it makes one big drive out of two equal ones. This improves performance by cutting hard drive latency in half. Since the data is divided equally and written on two hard drives it also increases the data bandwidth by two. The reason it's not considered true RAID is because if one drive fails, all data is lost.
IDE RAID 1 on the other hand mirrors two drives of the same size, so in theory if one drive fails, the other will take over as the primary hard drive and the system can continue to operate normally. This is what is supposed to happen with a SCSI hard drive setup and it actually works pretty well there.
The IDE subsystem doesn't allow hard drives to be disconnected while the computer is still powered up and in use like SCSI can unless you have a special HDD tray. Generally, when one IDE drive fails the system usually locks up anyway. The data is safe since it's mirrored on the other drive which is the real benefit.
With IDE RAID 0+1, you need four hard drives of the same configuration/size. What RAID 0+1 does is stripes two sets of two hard drives, one set for a RAID 0 configuration and the other for RAID 1. What this does is offer the best of both worlds, the high performance of RAID 0, with 100% data redundancy of RAID 1. Hence the name RAID 0+1. The only downside would be the need for four identical hard drives.
SEARCH PCSTATS

---

Use the power of Google to search all of PCSTATS and the PCSTATS Forums. Tell us what you think of this new feature - FEEDBACK?