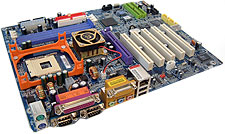 Even though the Gigabyte P4 Titan GA-8PE800 was not the highest performing i845PE motherboard we have tested, it's easily one of the best value boards on the market and with good performance characteristics to match. With a retail price of just $145 CDN ($90 US), there's no other motherboard in its price class that I can think of that offers more for your money.
In terms of on board goodies, the motherboard has Intel Gigabit LAN, IEEE 1394, IDE RAID, USB2.0, Serial ATA/Serial ATA RAID, 5.1 audio and dual BIOS's. Despite all the on board components, Gigabyte was still able to include five PCI slots!
Gigabyte takes customer care to the next level, they not just colour code the front panel headers they also label the positive wire for you! All the rest of the headers (USB 2.0, IEEE 1394, Serial ATA, etc) are all located at the edge of the PCB which means that all the extra wires to the brackets will not interfere with the other system devices. Gigabyte include virtually everything you will need to take advantage of the on board components, including a molex to 15 pin serial ATA power connector adaptor.
My only real qualm with the motherboard is that there are Advanced Chipset options in the BIOS. Without the ability to change the memory timings (SPD on the memory is 2-3-3-6) the Gigabyte P4 Titan GA-8PE800 Ultra's performance suffered a little. As a result, it came in towards to bottom of the boards we compared it against in most of the benchmarks. The available voltage adjustments also seemed a bit low; a maximum of 1.6V means that the more hardcore overclockers will have to modify the processor for more voltage if they really need it. This won't affect average consumers at all of course, so this doesn't count against the board in our overall opinion.
All in all, the Gigabyte P4 Titan GA-8PE800 Ultra is a great motherboard for consumers to consider. You probably wouldn't want to use the motherboard in your 3DMark/benchmarking machine but it will certainly do the job just fine in your main rig. Stability is good, and feature-wise the blue board is literally packed!
Find out about this and many other reviews by joining the Weekly PCstats.com Newsletter today!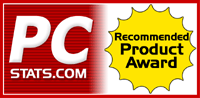 Related Articles:

Here are a few other articles that you might enjoy as well...

2.