Gigabyte uses the Award BIOS system for the 8PE800 Ultra and it has most features that you would expect from a high performance motherboard. Unfortunately Gigabyte appear to have excluded the 'Advanced Chipset' options which usually house the memory timings. Because we were not able to set the memory timings aggressively, the board was tested with the memory running by SPD. The exact settings for the Corsair XMS3500 CAS2 is 2-3-3-6.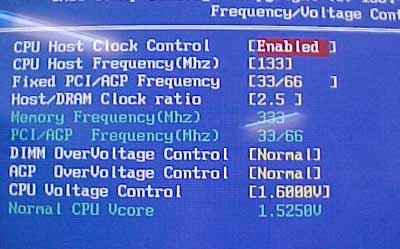 Gigabyte allow for 1 MHz increments all the way up to 350 MHz for CPU host frequency adjustments although I highly doubt anyone will be able to get that high with current processors. There are a whole slew of fixed AGP/PCI frequencies to choose from, and you can change the memory divider as well.
DRAM voltage goes to a maximum of 2.8V and AGP goes to 1.7V. You can only raise the CPU voltage to a maximum of 1.6V which is a bit low for the overclocker.
PCStats Test System Specs:

Computer Hardware:

Processor:
Pentium 4 2.8
Clock Speed:

21 x 133 MHz = 2.8 GHz

21 x 150 MHz = 3.09 GHz

Motherboards:
MSI GNB MAX
Abit IT7 MAX2 Rev2
Gigabyte P4 Titan 8PE800 Ultra*
Chipsets:
E7205
i845PE
Videocard:

ATi Radeon 9700 Pro

Memory:

2x 256MB Corsair XMS3500 CAS2

Hard Drive:
20GB Maxtor DiamondMAX+
CDROM:
NEC 52x CD-ROM
Floppy:

Panasonic 1.44MB Floppy Drive

Heatsink:
AVC Sunflower
PowerSupply:
Vantec 470W Stealth PSU
Software Setup
WindowsXP Build 2600
Intel INF 4.04.1012
Catalyst 3.1
Benchmarks

SysMark 2002
Business Winstone 2002
Content Creation 2002
Winbench 99
SiSoft Sandra 2003
PCMark2002
3DMark2001SE
Quake III Arena
UT2003
* - 8PE800 Ultra is using more relaxed memory timings of 2-3-3-6 instead of 2-2-2-5 for the other two motherboards.