Kingston PC3500 HyperX DDR Memory Review
---
With the recent release of the nForce2 Ultra and the i875P/i865 based chipsets, there has never been a greater demand for fast, high quality, memory modules. Kingston is a name that's been long associated with quality memory products and late 2002 they released their "HyperX" line of memory specifically designed for overclockers and the performance enthusiast.
While relatively new to the overclockers game, Kingston are starting to make a name for themselves, and even the most hardcore overclockers are slowly starting to adopt their memory modules. At this point, Kingston can easily stand in the same crowd as Corsair and Mushkin, but which company will take supremacy still remains to be fought over.
With a retail price of $230 CDN ($160 USD), the Kingston HyperX KHX3500/256 memory kit is decently priced. Two sticks of 256MB Corsair XMS3500 CAS2 would run you around the $260 range, and $255 for the OCZ PC3500EL DC DDR kit.
Today we're going to be looking at two sticks of 256MB Kingston PC3500 HyperX DDR memory supplied to us through ZeusPC , which are rated to run with memory timings of 2-3-3-7-1 at 216 MHz FSB with only 2.5V. The two DIMM's we're going to be testing are not rated to run in dual channel mode but we had absolutely no problems running them in our Epox 8RGA+ (nForce2 IGP) test motherboard or other DC based mobo's.
So let's take a look at the blue beauties...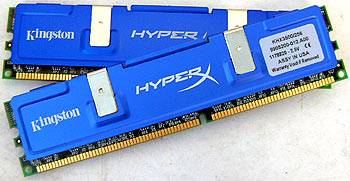 I've heard that the Kingston PC3500 HyperX DIMM's use 4.5ns Kingston DRAM, but as we were unable to remove the blue aluminum heat spreaders we're not 100% certain of that. If you know exactly what Kingston uses, or have pictures please e-mail me as I'd love to know.
Enough talk... GET TO THE OVERCLOCKING!!!
Plugging the Kingston HyperX DIMM's into the PCstats Epox 8RGA+ reference motherboard,along with an AthlonXP 3000+ and the most aggressive memory timings man can create (in the BIOS 2-2-2-5), we began to raise the FSB.
Suprisingly we ran into a stability problems at 200 MHz FSB but that was fixed by raising the memory voltage to 2.7V. And that was about it. Unfortunately our overclocking adventure maxed out at a 216 MHz FSB while maintaining the most aggressive memory timings. Higher memory voltages did not help things.
Raising the memory timings from 2-2-2-5 to 2-3-3-7 allowed us to hit the 223 MHz mark but because of the lax timings performance of the Kingstone memory modules was not as good. Up next, the benchmarks.
pcstats test system specs:

computer hardware:

processor:

athlonxp 3000+

clock speed:

13 x 166 mhz = 2.16 ghz

10 x 216 mhz = 2.16 ghz

motherboards:

epox 8rga+

chipsets:

nforce2 igp

videocard:

ati radeon 9700 pro (325/620)

memory:

2x 256mb corsair xms3500 cas2
2x 256mb kingston hyperx pc3500

hard drive:
40gb wd special ed.
cdrom:
nec 52x cd-rom
floppy:

panasonic 1.44mb floppy drive

heatsink:
thermalright sk6 w/36cfm delta
powersupply:
vantec 470w stealth psu
software setup

windowsxp build 2600
nforce2 2.03
catalyst 3.5

workstation benchmarks

sisoft sandra 2003
pcmark2002
3dmark2001se
quake iii arena
ut2003