While I'd still say the Radeon 9800 Pro is faster overall, it certainly seems like nVIDIA is on the right track with their GeForceFX 5900/5900 Ultra line of GPU's. With TSMC's 0.13 micron teething problems pretty much gone, nVIDIA's biggest problem now will be dealing with the huge supply demands.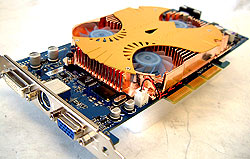 nVIDIA did address probably the biggest issue with the GeForceFX 5800/5800 Ultra and that's the narrow 128bit memory bus. With the FX 5900's memory bus expanded to 256bits, the GPU is no longer memory bandwidth limited like it was on the NV30.

Those of you who are still screaming about the 4 pixel single texture pipeline should really calm down as newer games are all multi-textured and there the GeForceFX 5900/5900 Ultra can play with the big boys.

One thing that we really liked is that nVIDIA has incorporated an internal diode so gamers/enthusiasts can see how hot their videocards get.

Albatron have done a very good job with the FX5900PV - the card is shipped in a very cool looking notebook style bag that can be reused for many different purposes. A small software bundle is included which consists Duke Nukem: MP, a five game lite/demo CD, Power Director and Power DVD. Because the Albatron GeForceFX 5900PV is VIVO capable, a VIVO break out box as well as a composite-to-composite and S-Video-to-S-Video cable are thrown in. For those of you who want to use dual monitors, Albatron also include a DVI-to-analog converter.

Performance of the Albatron GeForceFX 5900PV was very good, on average it performed in the benchmarks close to that of the Radeon 9700 Pro but sometimes it would even outperform the Radeon 9800 Pro.

The card did exceptionally well in the Gun Metal 2 benchmark which is the only real world DirectX 9 benchmark in our suite at the moment. Is this a sign of things to come? We're sure as the NV35 matures, drivers will be able to draw more performance out of the card. Hopefully that will be done before the next generation chips are available.

Overclocking the Albatron GeForceFX 5900PV was quite frustrating because of the built in nVidia thermal management; when the card started to overheat it would downclock itself automatically within the benchmarks! Individually, the core would do a nice 500 MHz and by itself the memory would hit 1 GHz! However, running both the core and memory overclocked at the same time produced some pretty disheartening results. The highest we were able to hit with both core and memory overclocked was 466 MHz core and 975 MHz memory which is still pretty good.

If you're in the market for a new high end videocard I'd have to suggest you get a Radeon 9800 Pro based videocard still. Overall I'd say it's faster and it costs less. GeForceFX 5900 Ultra based videocards are not as good a value (relatively) because the only difference is the slightly higher core clock speeds (450 MHz on the Ultra as opposed to 400 MHz on the FX5900 regular). If you're a die hard nVIDIA fan and ATi is not an option then the Albatron GeForceFX 5900PV is a very good choice.

Find out about this and many other reviews by joining the Weekly PCstats.com Newsletter today!

Related Articles

Here are a few other articles that you might enjoy as well...

2.