It seems like history has a sense of irony... 3dfx was finished off by nVIDIA when they missed a product cycle. nVIDIA is not about to fall into the pages of history so easily though and that's mainly thanks to a large, and loyal OEM base (a safety net 3dfx never had). On the retail side, things were quite different though. Even die hard nVidiots are switching to ATi in droves.

Probably the biggest issues enthusiasts and gamers had with the GeForceFX 5800/5800 Ultra (NV30) are that the NV30

could only render 4 pixels in one pass in single texture games while ATi's R300/350, or even nVIDIA's own GeForce4 Ti line of GPU's could render 8 pixels. In multitexture games the NV30 could render 8 pixels.

The second issue with the NV30 that really irked the hardware community was the relatively narrow 128bit memory bus between the GPU and memory. Because of the ability to only render 4 pixels in single texture environments and the restrictive memory bus, the GeForceFX 5800/5800 Ultra was actually quite slow. On a side note, because of the higher core clocks (500 MHz for NV30, 450 for NV35), the GeForceFX 5800 Ultra has higher theoretical fill rates (single and multi textured) then the GeForceFX 5900PV Ultra. However because FX 5800 Ultra is bandwidth limited in reality the FX 5900PV Ultra is faster.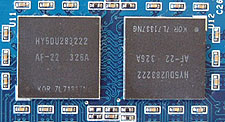 nVIDIA did not "fix" the single texture issue as modern games all take advantage of multi-texturing (older games user single texturing). They did fix the memory bus however. With the NV35, nVIDIA doubled the memory bus from 128bit to 256bit and despite having the memory run slower (1 GHz DDR2 on the NV30, 850 MHz DDR for NV35) the GeForceFX 5900PV Ultra has more bandwidth (16GB/s vs 27.2 GB/s).
Our buddies at Anandtech have a great write up on GeForceFX 5900PV/5900PV Ultra technology. If you'd like to learn more about it, check out their article here. Up next week take a hi-res look at the image quality differences between the nVidia FX5900 and ATI Radeon 9800!