Despite moving to a smaller manufacturing process, the GeForceFX 5900 core is still a very hot running GPU!
With both ATi and nVIDIA moving to a FCBGA (Flip Chip Ball Grid Array) style VPU/GPU's they have gone separate ways on how to protect the fragile core. nVIDIA seems to have taken Intel's lead and incorporate a copper heat spreader to protect the NV35 silicon from damage.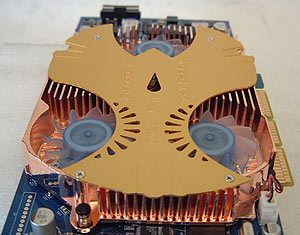 The front HSF sits atop the GPU and memory DRAM's, is made from copper plated cast aluminum, and features two active fans and one backup fan. Albatron claims that if one of the primary fans suffers a failure, the backup fan will automatically spin up and take the place of the dead fan.
To test this 'Wise fan' solution while the system was up and running I stopped one of the two primary fans and guess what, the backup fan took over immediately. The backup fan will spin up regardless if fan one, or two fails.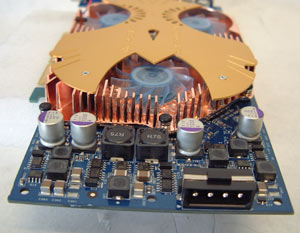 When we removed the heatsink, we were happy to see that Albatron used a good amount of thermal paste between the GPU/memory and the heatsink! The base of the heatsink was not finished very well and by dragging my nail across the bottom, I could easily feel many ridges.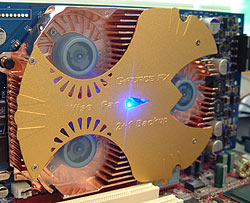 nVIDIA have incorporated an internal thermal diode with their NV35 line of GPU's and now users can monitor the temperatures of their GPU's within nVIDIA's drivers. Our particular card would idle around 37 degrees Celsius but under load we saw peak temps in excess of 110 degrees! Most of the time under load it would run around 80-90 degrees Celsius. Perhaps Albatron should consider placing a cooler on the back of the videocard as well!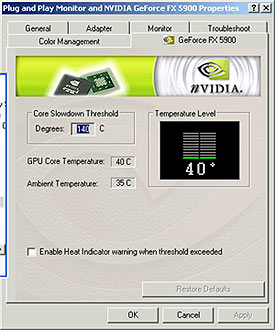 Overclocked, the Albatron GeForceFX 5900PV idle's at 40 degrees.