If you have a copy of Windows XP Professional installed on your home computer, you are already set up to do some serious remote computing. XP Pro includes the Remote Desktop server software, essentially a single-user version of Microsoft's terminal services technology which can allow you to use your computer from any internet connected computer running Windows 95 or later.
Remote Desktop allows a single user to login remotely using the same username and password that he or she would use sitting at the computer. The desktop of the computer, with access to all drives and files, is then remotely accessible over an Internet link between the two computers. By virtue of using the XP/2000 username and password login system, Remote Desktop is generally more secure than VNC, assuming that secure passwords are set on all accounts with administrative privileges.
Depending on the operating system you are using on the client computer (the one you're sitting at), you will have a range of other options besides simply manipulating the files on the remote desktop. If you are using Windows 9x/ME desktops, you will have access to the desktop and all files on the remote computer. Hence you will be able to run programs to edit files (for example, you could open a document on the remote computer with Word, also installed on the remote computer, and edit the document).
What you cannot do, unfortunately, is exchange files between your client computer and the remote computer. To access these features, Remote Desktop requires a client using Windows XP or 2000. With an XP client, the drives on the client machine will become available as network shares on the remote machine (see pic), allowing you to drag and drop files to transfer them between machines.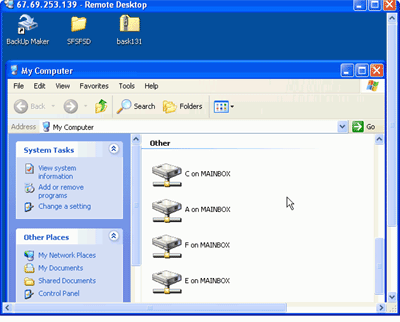 You can also cut and paste files and information inside files between the two computers, since the clipboard memory is shared. It should be noted that file transfer can be very, very slow using remote desktop due to the overhead of the connection. It's best used as an occasional means of transferring small files, rather than a way to remotely copy large amounts of data.
If you need to transfer data between computers, FTP is much more efficient than remote desktop at accomplishing that task.
In addition to the ability to copy files, an XP client computer allows documents on the remote computer to be printed directly to a printer attached to the client computer. When the remote desktop session is established, the relevant drivers for local printers are installed on the remote computer, enabling printing. WindowsXP clients also allow audio transfer between the two computers, so sound played on the remote computer can be heard on the client.