To access your desktop remotely from a Windows XP client, or any other Windows system with the Remote desktop client installed, go to Start/programs/accessories/communications/remote desktop connection.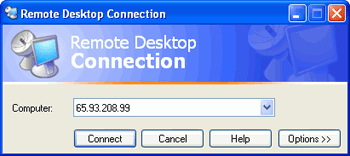 To connect with your remote desktop, enter your home computer's IP address (xxx.xxx.xxx.xxx) and click 'connect' (note: to find the external IP address of your home system, go to start/run and type 'cmd' to bring up the command prompt, then type 'ipconfig'). You will be prompted for a username and password, and then gain full access to the desktop of your home PC.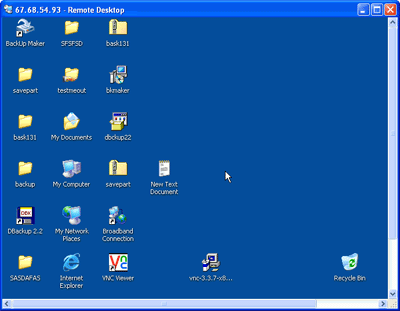 In full screen mode (the default) the yellow taskbar along the top of the screen allows you to minimize the window of the display.
To take full advantage of the XP client's capabilities, go to the 'options' menu. Using the 'local resources' and 'experience' tabs here, you can fine-tune the capabilities of the remote connection.
The 'local resources' tab allows you to define which resources you will have access to over the remote connection. For example, you can define whether the client computers drives are available to the remote computer, as well as local printers, and if you wish to hear audio from the remote computer. The 'disc drives' and 'printers' check boxes enable access to local drives and printers respectively, while the 'remote computer sound' drop down box allows you to define sound options.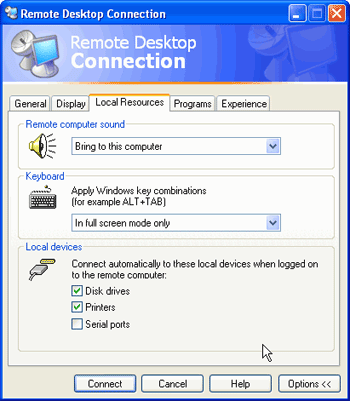 The 'experience' tab deals with how much of the remote desktop's environment is brought over to the client computer.