For increased performance, especially over slower Internet connections, you can reduce the amount of data traveling over the wire by disabling such options as background pictures, Windows themes and menu animations.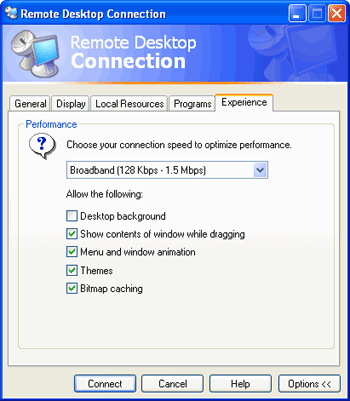 To download the remote desktop client for use on non-XP machines, go to www.microsoft.com/windowsxp/pro/downloads/rdclientdl.asp To access your remote desktop through the remote desktop web connect, simply type 'https://(ip address of your home computer)/tsweb' to bring up the web connect dialog screen.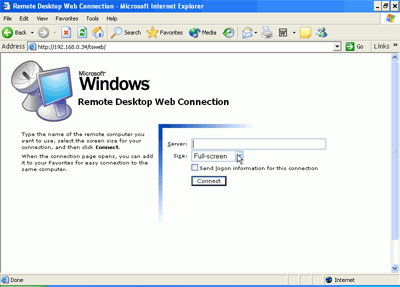 Click 'connect' to begin the session and enter your username and password. Note that it is not necessary to put any information in the 'server' box for the purposes of this guide. The interface is functionally identical, however you do not have the options that you possess with the remote desktop client, both in terms of setting parameters for the connection and optimizing it.
Once you are connected with either method, you can work as if you were seated in front of the remote computer. The only exceptions to this are applications or games that require 3D acceleration. These will generally refuse to start on a remote desktop connection. If you wish to cut and paste the contents of documents between the computers, you can do this as normal. If you are using an XP computer and the remote desktop client, you can also copy files by copying and pasting them to the desktop of your client computer, or by opening the client's local drives on the remote computer if you have enabled this option.
Logging off from remote desktop will end your session, but leave any programs on the remote desktop still active. As remote desktop only allows a single user to be logged in, your home computer will lock itself (requiring the user to enter the password to re-enter Windows) as soon as a remote user connects. Unlocking the desktop from the local computer will cause the remote desktop session to be disconnected instantly.
By now you should have everything you need to be up and running with either VNC or Windows XP remote desktop. For anyone who uses computers regularly outside the home, these are useful tools. Now you can essentially carry your entire desktop in your back pocket!
Find out about this and many other reviews by joining the Weekly PCstats.com Newsletter today!