Assuming you are using Windows XP and Internet Explorer, there are some browser settings that can be configured to ensure a safer surfing experience, primarily dealing with how activex controls are handled by your browser. Activex controls are essentially programs that can be run by Windows operating systems straight from a web page. These can include many things such as web forms, sound and graphics, but what we are primarily concerned about is installation programs.
Many vendors, such as Gator Corporation, use Activex controls to enable the installation of their software from participating websites. By default, all Windows operating systems will prompt users for permission to install such applications, but it is possible to set your browser to bypass user permission and automatically run Activex controls. To avoid this:
From Internet Explorer, click 'tools' then 'internet options' and select the 'security' tab.
Select the 'custom level' button.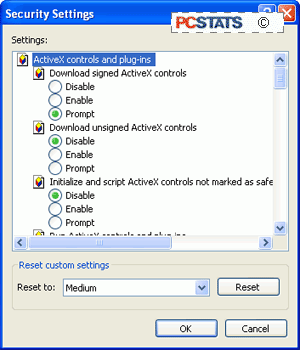 To begin with, ensure that 'download unsigned Active-X controls' and 'initialize and script Active-X controls not marked as safe' are disabled.