To use Zonealarm as an example, the firewall monitors all attempts to access the Internet from inside the computer, and pops up a request for permission to access the Internet for each application.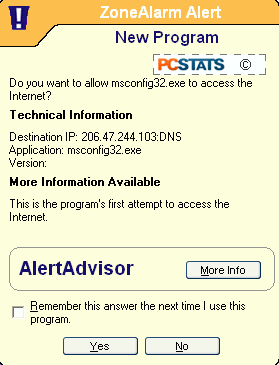 Once you ok it, that particular application will be allowed access permanently. This is a great tool for making you aware of what is going on inside your computer. Zonealarm is available from www.zonealarm.com
Combating spyware in Windows XP Service Pack 2
Microsoft's recently released Service Pack 2 for Windows XP turns up the level of security considerably. Most significant, at least for the scope of this article, are the improvements that have been made to Internet Explorer.
IE has gained two major features that make avoiding spyware much easier. First and foremost, the browser now blocks and suppresses pop-up ads and unsolicited download prompts and activeX controls. An information bar under the address bar pops down to inform you if a pop-up or other control has been blocked, and gives you the option to override if you wish.

This is a fantastic feature, which does much to defuse the annoyance of the endless ad popups spawned by certain types of ad-ware. It also makes installing spyware accidentally much harder, as no more will you see those pop-up windows asking you whether you wish to install this or that onto your system.
The second helpful feature is an application that lets you view all the add-ons and plug-ins that have been added to Internet Explorer. In a similar fashion to Hijackthis, you can now view a list of items that have been added to IE or changed, and disable them at will. This provides you with a means to effectively combat browser hijackers and browser parasites right from IE itself. To access this feature once you have upgraded, open IE and go to 'tools\manage add ons…'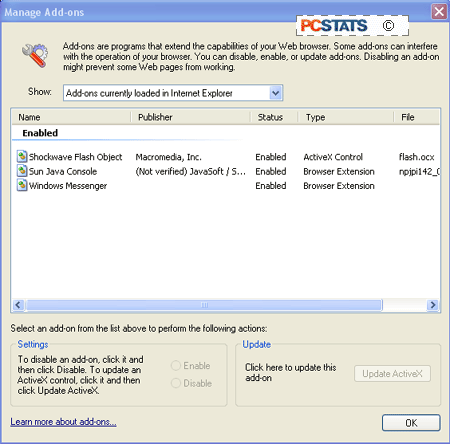 Also improved in Service Pack 2, though unrelated to Internet Explorer, is Microsoft's decision to activate the Windows XP firewall by default.
For a more detailed examination of the features of XP Service Pack 2, see PCSTATS review here.
More resources:
If you are having difficulties with some form of spyware but can't get it resolved through any of the suggested methods, there are several sites and forums that contain helpful information to aid you in ridding yourself of the pest.
If you have any comments or questions, please post them in the PCSTATS Forums. Find out about this and many other reviews by joining the Weekly PCSTATS Newsletter today! Catch all of PCSTATS latest hardware reviews right here.