Another excellent free tool for finding and removing spyware programs is "Spybot Search and Destroy" by PepiMK Software. Though slightly less user friendly than Ad-Aware, it scans for a greater range of possible threats by default (including some Windows security exploits) and also contains an 'immunization' feature.
The immunization feature attempts to pre-block certain known spyware activex installation routines from running in IE, and locks the HOSTS file and Internet Explorer settings to prevent them from being changed.
Spybot S&D also provides a greater body of information about the threats that it locates on your computer than Ad-Aware, helping you make the decision to remove them or not. It uses an online signature update model similar to Ad-Aware, and is available here.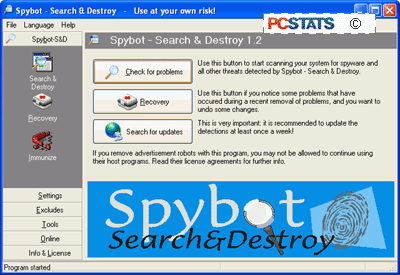 Ad-Aware and Spybot S&D complement each other well, and it is recommended that you use them both for maximum peace of mind. Be sure to update them frequently through the built in update features. Either can be set to schedule updates and spyware checks for specific times, so you can schedule a daily sweeping of your system for unwanted spyware.
In addition to protecting yourself with spyware removal utilities, using a firewall that is capable of blocking information going out from your computer to the Internet is also a good idea.
For more detail on how firewalls work see PCSTATS Guide to Firewalls in Windows. Various freely available software firewalls such as Zone Lab's Zonealarm are capable of this.
Further options: Hijackthis and CWshredder
Though there are many other spyware and malware removal tools out there, Spybot and Ad-Aware are your two best options due to their history and level of popularity and support. They will not necessarily remove everything though. Many strains of malware, especially certain browser hijacking programs (like the notorious Cool Web Search hijacker) are very tough to get rid of. Generally this is because they edit your registry, causing the changes they make to re-occur each time the system is restarted.
If you have used Ad-Aware and Spybot , as well as an anti-virus program to clean your system, but you are still experiencing problems with a hijacked web browser, pop-up ads or other strangeness, you may wish to try another pair of freeware programs, hijackthis (available here) and CWShredder (available here).
Hijackthis is a program specifically designed to combat the more persistent types of browser hijackers and other Internet Explorer software parasites. It scans various registry locations and files and assembles a list of add-ons to and changes that have been made to the default IE settings.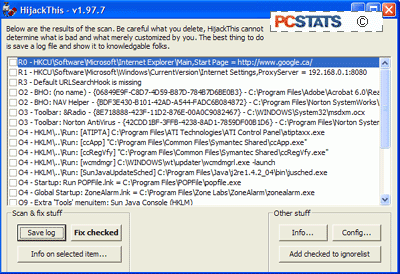 Once the list has been assembled, the user can look through it and remove any entries that seem suspicious. Hijackthis is not a program for novices, unfortunately. The majority of the entries that the program shows will be benign, and may even cause serious stability problems if removed. The average user will need guidance to use Hijackthis successfully.
To this end, several friendly and helpful forums exist where users can post their Hijackthis logs and gain recommendations from the forum goers. If you want to go the DIY route, look here for a helpful guide to identifying the items in your Hijackthis logs. Otherwise, post your logs on one of these forums for help.
Spywareinfo.com
Cexx.org
Computercops
Net-Integration
Spyware Warrior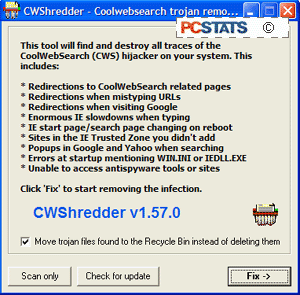 CWShredder is a simple tool entirely devoted to removing the various strains of the Cool Web Search browser hijacker (available here). Download it, update it and run it to make sure your PC is free of this persistent troublemaker.