KingMAX SuperRAM PC3500 DDR433 Memory Review
---
The KingMAX name may not be as immediately familiar with enthusiasts as that of other memory manufacturers, but that doesn't mean it is a brand which should be overlooked. As it stands, Kingmax have a small and growing fan base. This, largely because they charged into the market with their unique TinyBGA memory a year ago, at a time when TSOP-II DRAM was still the default standard.
As 2003 has been synonymous for a lull (or recession) in the computer industry, manufacturers have focused more attention on plain-jane memory modules even as a small boom was taking place amongst enthusiasts. With an eye towards satisfying consumer demands for faster memory, tighter timings, and case-mod friendly appearances, Kingmax have released several varieties of DDR. The aim of course, is to get some of the spending action.
Before we look at Kingmax's stick of 512MB PC3500 DDR today, it is worthwhile to mention that KingMAX introduced its "SuperRAM" line of memory modules earlier this year - debuting at PC3200 speeds. Success came in the form of eight wonderful Winbond BH-6 DRAMs (the same used in Corsair's XMS3200 CAS2 ), and it was instantly a huge hit with speed freaks.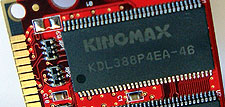 I know many people that raved at how well the memory performed, but I wasn't so lucky after testing out the TinyBGA Kingmax memory that followed... so I was a bit soured towards trying KingMAX memory again in the future.
That was a while ago, and today the past is put behind us as we test out a stick of 512MB PC3500 DDR Kingmax RAM. This is KingMAX's new SuperRAM line, and it is aimed at the enthusiasts of the computer world.
The bright red stick that we received for review is a retail sample, but I've also seen them with yellow and green PCBs as well.
The 512MB PC3500 Kingmax module uses DRAM which is labeled as "KingMAX KDL388P4EA-46." By SPD it's rated to run at 217 MHz with 2.5-4-4-8 timings, with a voltage of just 2.5V. The DRAM have what I assume - many DRAMs are no longer stating their exact speed - are 4.6ns ratings, as that fits just right into the formula for the theoretical maximum speed of the DRAM; 1000MHz/4.6ns x 2(DDR) = 217MHz.
Since we received one 512MB DIMM, it is the perfect opportunity to test how the KingMax memory runs in single channel mode. Please note that the memory worked just fine with other DIMM's when running in dual channel mode, so I don't see why the memory wouldn't run in dual channel mode for anyone else... In any case, on with the benchmarks!