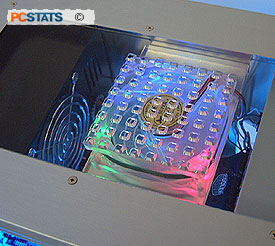 The KingWin Case comes with three preinstalled case windows; one on each side of the motherboard as well as a window on the top of the computer with a fan and vent. Inside the system are two blue Sunbeam Cold Cathodes as well as two Sunbeam cold cathode 80mm case fans at the front.
The attention to detail with this computer was excellent, the tech's that built this system did a bang up job at cable management using zip ties to keep everything in order. Airflow inside the case was kept open as the Serial ATA cables and rounded floppy drive cables allowed air to pass easily from the intake to exhaust fans.
Now if only Creative used a rounded data cable between the Audigy 2 and the front panel I/O controller things would have been perfect. ;-)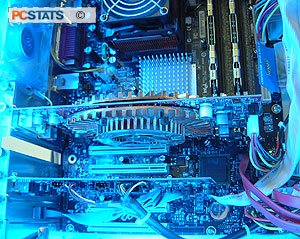 Please note: while the MSI nBox FX5900 Ultra is shown in the images, a reference nVidia FX5900 comes with the system and was used for all benchmarks. The construction of the KingWin Aluminum case is very sold, and the aluminum used was nice and thick. You're not going to cut yourself when working inside this case either, everything is rounded over. I couldn't find a sharp edge even after looking specifically for one. The side panels and PCI/AGP devices are all held together via thumb screws which makes access a tool-free affair.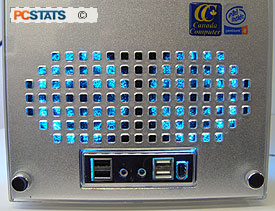 You'll need to get the screw driver when attaching the HDD's, floppy and the 5 1/4" devices however. I love how powerful the Power/HDD LED's are, they're so strong they're almost blinding to the eye.