Applications are demanding more and more memory these days to operate, and while we can all debate about bloatware, the fact of the matter is that 512MB of memory is the best minimum anyone should have when running WindowsXP.
Not only does the Ultimate Gaming Machine have 1GB of OCZ PC3500 EL memory, it also has no problems running aggressive (2-2-2-5) timings at 200 MHz FSB! While the P4 craves bandwidth, being able to run your memory at aggressive timings will make your system just a tad faster. When has a PC ever been fast enough anyway?
While there are faster processors on the market, the Intel P4 3.2C is still pretty quick. I doubt we'll see many Athlon64 or P4 EE systems anytime soon as Athlon64 processors are still difficult to find and Intel's Pentium4 Extreme Edition CPUs run close to $1300 CDN.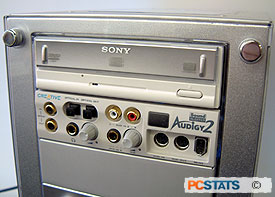 The P4 3.2C has enough power for even the most demanding applications. Canada Computers went one step further and ditched the stock cooler (which is pretty good still) for a CoolerMaster IHC-H71 Everest heat pipe cooler. This move was probably not necessary as the Intel motherboards do not support overclocking, but it's always nice to believe your chip is running cooler.
If you're looking for the most well rounded sound card on the market there's little doubt that the Audigy 2 is the card to aim for. Yes the Audigy 2Z have been released and supports 7.1 speakers, but they're not readily available - at least around here.
Since I often find myself using headphones instead of speakers during a late night gaming session, I just love the Platinum I/O drive bay. It certainly makes things easier for me to just plug in the headphones right there. Creative has definitely had me addicted to their Platinum series of sound cards since the SB Live! 5.1 Platinum.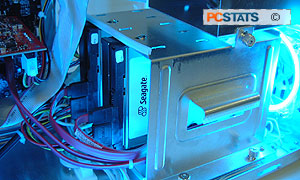 The era of the CD-RW is fading fast, and in its place are starting to pop up DVD burners. What better way to embrace the future than to have the awesome looking Sony DRU-510A DVD+/-RW burner in your PC? After all it can burn DVD-/+R/RW media at up to 4x, and CD-R media up to 24x - and of course it still reads DVD's at 12x speed and CD's at 32x. It's nice to not have a CD-RW in your system to burn CD's as well.
Serial ATA has slowly been gaining momentum, so it is no surprise to find the Ultimate Gaming Machine packing a set of Seagate's.
Seagate does produce some of the quietest drives available, and the two 7200 RPM 80GB HDD's in RAID-0 configuration should be plenty fast for even the most hardcore HDD user/application. During testing we did notice that the system was quite a bit zippier than when only running a single 7200 RPM HDD. I guess it would have been nice to see some Western Digital Raptors since this is an Ultimate Gaming Machine.