Unreal Tournament 2003

Source: Epic
Unreal Tournament 2003 is the sequel to 1999's multiple 'Game of the Year' award winner. It uses the very latest Unreal Engine technology - where graphics, sound and game play are taken beyond the bleeding edge. Unreal Tournament 2003 employs the use of Vertex as well as Pixel Shaders and it's recommended that you use a DirectX 8 videocard to get the most out of the game.
UT2003 Demo 640x480 Flyby
Video Card
FPS
Ranking
1.
CC - Ultimate Gaming Machine
234.41
UT2003 Demo 640x460 Botmatch
Video Card
FPS
Ranking
1.

CC - Ultimate Gaming Machine

81.95
If FPS's is the main genre that you play you're definitely going to be very satisfied with the Ultimate Gaming Machine!
Fast and Pretty!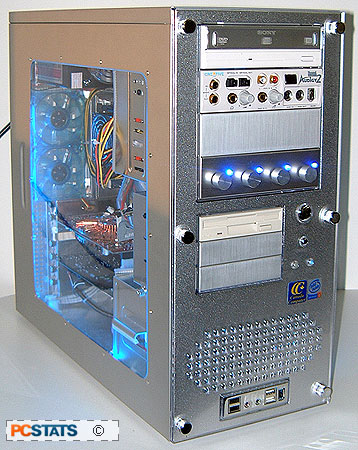 Canada Computers Ultimate Gaming System is just that, an ultimate gaming system! With a P4 3.2C backed up by 1GB of OCZ PC3500 EL DDR RAM and a GeForceFX 5900 Ultra based videocard on an Intel D875PBZ motherboard, what else could you ask for?

How about Creative's SB Audigy 2 Platinum and the awesome Sony DRU-510A DVD+/-RW or an aluminum KingWin mid tower case and a 450W LED supply?

It's easy to pack a system with all high end parts, and from playing with the system I can see that a lot of time and effort was put in building the machine as well.

Little things like them cleaning up all the cables with zip ties to making sure all the drives on the front panel are flush with the rest of the case will certainly make the consumers money seem a little more well spent.

It's a given that performance of this system is very good. After all the benchmarks, it is clear that Canada Computers Ultimate Gaming Machine of 2003 zipped through all the tests with no difficulty.

While there is no official price tag for this system we're estimating it would run around $2500-3000 CDN ($1900-2280 US). It shouldn't be any surprise that this system is easily one of the most powerful Intel desktop PC's available on the market, and should keep even the most hardcore gamer happy for a long time!

Find out about this and many other reviews by joining the Weekly PCstats.com Newsletter today!

Related Articles

Here are a few other articles that you might enjoy as well...

2.