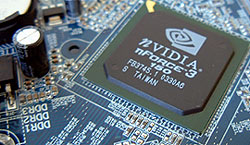 The K8NNXP features a good-sized heatsink on the nForce3 150 chipset. The heatsink seemed adequate to keep the single chipset running within acceptable temperatures during operation. After all, unlike other solutions for the AMD Athlon64 , the nForce 3 is a single chipset with north and south bridges combined, so maintaining good operational temperatures is important.
The thermal pad that interfaces the NF3 heatsink with the chip made little contact with the typically uneven surface of the BGA chip. In our experience a good quality, low creep white silicon thermal paste is the best solution as long as the blend is prone to drying out. Silver-based thermal compounds are neither recommended nor necessary for an application such as this.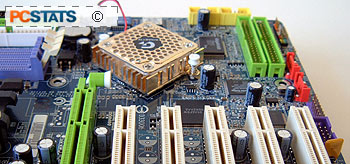 By now I'm sure you all know that I like to see the IDE/Floppy drive connectors and the main ATX power connector located to the right of the DIMM memory slots. This layout means it is less likely for large cables to cause problems with airflow or get in the way of the other system devices.
To make things easy for the end user, the K8NNXP has all its extra device headers and other ports (IEEE 1394, Serial ATA, USB 2.0, etc) located along the very bottom edge of the PCB. Always helps to keep the random wires in one place. The K8NNXP is a full size ATX motherboard, so it is best installed in a mid-tower, or full tower case where there is plenty of extra room.
The layout of all the different components on the board is pretty good, with a few distinct differences that are specific to K8 motherboards, and Gigabyte specifically. Little annoyances like having to remove the videocard to add memory are not a problem here, nor are there any obvious issues with long PCI peripherals interfering with board mounted cables or components.
| | |
| --- | --- |
| | The K8NNXP comes with a power supply daughter card, and a Serial ATA PCI bracket for use with external SATA devices. Power, and two SATA jacks are provided. |
Gigabyte has long been a pioneer in customer care and the K8NNXP is one of the easiest motherboards to use. Every port and connector is labelled (and colour co-ordinated), and if you're confused about something during installation you can simply refer to Gigabyte's awesome users manual. The icing on the cake is easily Gigabyte's inclusion of Norton Internet Security 2003 software with the motherboard. As long as that software suite is updated, you shouldn't have to worry about virus's and worms, or other people attacking your system.