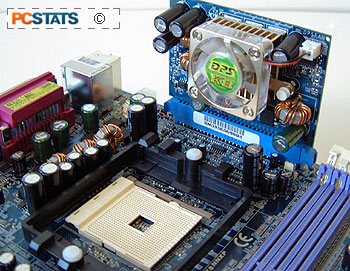 As with all other high-end Gigabyte motherboards, the K8NNXP includes an extra power supply module called the DPS-K8 or Dual Power System K8.
While the system worked just fine without the DPS-K8 daughter card installed, in theory the voltages and signals should be more stable with the DPS-K8 module installed, and the extra 3-phases of power regulation it provides. And, in the event that the motherboard-based power supply should ever fail, the DPS unit is supposed to be able to take over.
There are a few quirks with the K8NNXP that detract slightly from our overall impression of this socket 754 Athlon64 motherboard.
The first little quirk is on the rear I/O panel where there are just two USB ports.... yet a blank space remains where two more could have gone. Four additional USB2.0 ports are spread out over two PCI brackets, but with the empty space there anyway's, we're left wondering why one of those brackets wasn't just nixed altogether?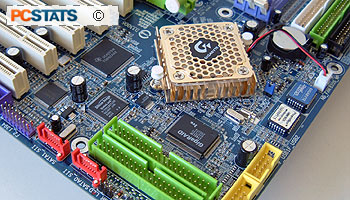 Since we're used to dealing with Clear CMOS jumpers on a regular occasion around the PCstats lab, we were a bit surprised to find that necessary feature missing from the Gigabyte K8NNXP motherboard. After a quick flip through the manual we found out why there are only solder points; instead having users fish around inside the case for that tiny little jumper, Gigabyte instruct users to simply remove the motherboard battery for about 30seconds. To novice users this is much easier route, but for experts out there, you might be a little dumbfounded at first so take note.
Need it fast? How about 800MB/s?
With the release of USB 2.0, consumers had an inexpensive, high speed alternative to IEEE 1394a. Not only is USB 2.0 (480Mb/s) faster than IEEE 1394a (400Mb/s), but it also costs motherboard manufacturers virtually nothing to implement. USB 2.0 technology is built into chipsets, so there are no other expenses with implementing it on a board. The only advantage of IEEE 1394a over USB is that it doesn't require any CPU resources to process data - unlike USB technology which can impart a significant system load. That lone advantage was never quite enough to compete with USB, or USB2.0 in the PC world, and so IEEE 1394 has largely been adopted by MAC users and as an interface for digital video cameras and other consumer electronics-oriented devices. This is where IEEE 1394b now comes in.

IEEE 1394b (9 pins, new connector) basically doubles the bandwidth of IEEE 1394a (4 or 6 pin) to 800Mb/s (Megabits per second) which gives the end user a much faster external device. From HDD's to scanners to video cameras; anything that's compatible with IEEE 1394b will be significantly faster than anything else that's out there, which is its main appeal.
There are two main types of IEEE 1394b jacks, Beta and Bilingual. The Bilingual connector (see above) has a smaller top key on the cable and is built for high speed devices and offers backwards compatibility with older IEEE 1394a devices. To take advantage of either you'll need the specific cable for your given device, though it seems Bilingual is the standard which you'll encounter most often. The bracket that comes with the Gigabyte K8NNXP includes both a Bilingual IEEE 1394b port and older IEEE 1394a port, making it one very digital video-editing friendly workstation motherboard.