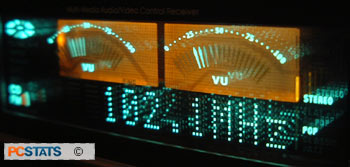 The back light behind the volume needles changes from blue when the PC is off, to orange when the PC is powered on. Pushing in the volume dial for a few moments will turn the Gigabyte M1600A when operating autonomously.
Now that we've gone over the Gigabyte M1600A, let's delve into the finer points of this nifty little device... Spec wise, the M1600A looks something like this; the drive offers 16X DVD and 48X CD-ROM read speeds, reads all the usual formats that might make the basis for that favourite MP3 mix CD, is supported under all Windows operating systems and offers a 512 Kbyte buffer.
The radio turner sweeps from 87.5MHz all the way through to 108MHz on the FM dial (AM is not supported). The standalone CD-MP3 player function supports 32-128Kbit, 44.1KHz encoded MP3's, and a frequency range of 20Hz through 16KHz. I'm not certain if VBR encoded MP3 formats are supported however.
The Gigabyte M1600A offers up five preset audio equalizer settings at the touch of the right-hand dial including; flat, pop, rock, classic and jazz. For extra bass, the "SRS Wow" processor can be turned on with accessories like "3D" and "TruBass" that give a little more life to the music.
Accessing the CD drive on the Gigabyte M1600A means lowering the front control panel, and that is done with a small push button on the control face. It is a system that works well, but can stick every now and again.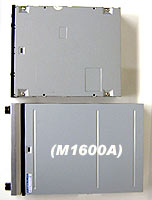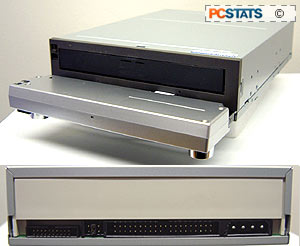 The CD drive tray will not open until the front control panel is down flat, and wouldn't be able to anyway's if it weren't. A set of springs and metal retention points helps to ensure that if something ever bumps into control panel when it is open it won't snap right off the rest of the DVD-ROM. The spring is there to keep the drive from flapping about like a cheap trap door. :-)
Compared side-by-side with a standard CDROM, the Gigabyte M1600A is a bit longer, and when installing the drive in the case it is important to select the first set of screw holes so that the front control panel sits flush with the front bezel of the computer case. The control panel is built such that it can sit flush, yet still fold out making the drive tray accessible.