DVD Speed is a DVD-ROM benchmark which can test the most important features of a DVD-ROM drive. For this test we use a pressed DVD-ROM with about 7.8GB of data on it.

Gigabyte M1600A - DVDSpeed Tests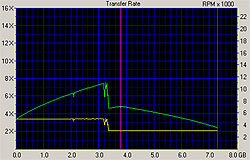 | | | | | | | |
| --- | --- | --- | --- | --- | --- | --- |
| Optical Drive | Gigabyte M1600A | DVD-500M | DVD106 | SD616 | SDM1212 | SM-308 |
| Disk Type | DVD | DVD | DVD | DVD | DVD | DVD |
| Avg Speed: | 4.71x | 5.73x | 5.74x | 4.85x | 4.52x | 1.71x |
| Start Speed: | 3.36x | 3.25x | - | - | - | 1.76x |
| End Speed: | 2.40x | 3.76x | - | - | - | 1.74x |
| Type: | CAV | P-CAV | - | - | - | CLV |
| Random Seek Time: | 113ms | 90ms | 98ms | 81ms | 111ms | 103 |
| 1/3 Seek Time: | 116ms | 103ms | 111ms | 88ms | 116ms | 110 |
| Full Seek Time: | 182ms | 178ms | 187ms | 158ms | 187ms | 346 |
| CPU use: 1X | 3% | 3% | 16% | 20% | 21% | 58% |
| Disk Info: | 7.36GB | 7.8GB | - | - | - | 7.8 |
| Spin Up: | 1.85s | 3.3sec | - | - | - | 3.2 |
| Spin Down: | 1.27s | 2.1sec | - | - | - | 2.4 |
Using the Spiderman DVD, we tested the M1600A which is rated for 16X speed, and found it capped off at about 5X DVD playback on this disc. Realistically speaking, this is still a pretty good speed, and produced an error free image. Hint, if you would like to test out a DVD of your own in Nero DVDSpeed, but get errors every time you start the test, the problem lies with the copy protection on the DVD. Start the DVD playing on you computer first, close that program and then try testing your DVD-ROM once more. Playing the movie for a few seconds unlocks the DVD, and allows Nero to read the data for its tests.
Final words:
The Gigabyte M1600A is a pretty cool drive all things considered. Officially rated at 16X DVD read speeds, our tests came up a little less, but realistically speaking, all DVD drives tend to. The remainder of the benchmarks peg the M1600A as a competent 48X CD-ROM, though it's not about to nudge out the speedy Samsung optical drives from the top spot.
What really makes the Gigabyte M1600A a cool device to add to any small formfactor PC, or even full size PC, is the stylishly illuminated console with FM tuner. And most importantly, the ability to keep the tunes coming even with the PC turned off. There are a few quirks that might cause some frustration, the most significant of which is having to use the remote to choose a radio station, but perhaps a future firmware update will correct that... in the mean time, the remote handles the job, even if a little slowly.
I listen to a lot of music, and the hum of three or four cooling fans late in the night when I just want to play a CD, or a CD full of MP3's is a necessary evil we've all had to get used to. With the M1600A, we now have the option of shutting the PC down, and just playing the music.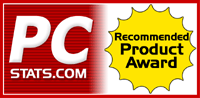 Related Articles:

Here are a few other articles that you might enjoy as well...

1. Samsung SW252B 52x24x52 CD-RW Review


2. Plextor PXW4012TA 40x12x40 CD-RW Burner Review
3. Kenwood 72X CD-ROM Review
4. MSI CR52-A2 52x24x52x CD-RW Review
5. Samsung SW240 40-12-40 CDRW Burner