Abstract: FTP is an easy way to transfer files over the Internet and in this guide PCSTATS will explains the basics of using it, and how to set up a home FTP server in Windows XP.

Home > Reviews > Beginners Guides > PCSTATS
Configuring the FTP Website Controls
After IIS has been installed, an FTP site is automatically created for the directory 'c:\inetpub\ftproot.' Of course, this directory is currently empty. It is also completely unsecured, allowing anyone who enters ftp://(your IP address) in their browser or FTP client to connect to your computer. Next step is to configure your new site.

Go to start\control panel and select the 'switch to classic view' option in the upper left corner. From the classic control panel window, select 'administrative tools,' then 'internet information services.'
From here, expand '(local computer)' and 'FTP sites' until you have 'default FTP site' in the left hand pane.
Right click on 'default FTP site' and select rename if you would like it to be called something a bit more catchy.

After all, it's your site now.
Now, right click on your site and select 'properties.'
This window is the life-blood of your FTP site. Let's get familiar with it. The first tab, 'FTP site,' allows you to rename the site, set the port through which users can connect (leave it at 21 for now), set connection and logging information and view who is currently connected to your FTP site.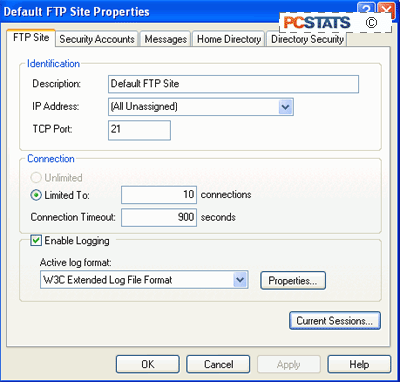 The connection section of this tab has two parts, the 'limited to:' box sets the maximum amount of users that can connect to you FTP site at the same time. Note that with XP Professional, the maximum is always 10 concurrent users. You can set this to less if you'd like.
< Previous Page
© 2022 PCSTATS.com

Please respect the time and effort that went into creating each PCSTATS Beginners Guide, do not illegally copy. Thank you.

Next Page >