Once you have completed the setup wizard, you will be presented with the full Serv-U window. Your FTP site is now up and running. Test it from another computer using the method listed in the first section.

As you might notice, it's a good deal more complicated than the Windows implementation of FTP. The first thing we will do here is expand 'local server' and 'domains' until you can see the domain that you created. Expand that too.

While we don't have the space to go over all the options available to you in this program, we will cover a few important ones. For more help, consult the Serv-U help files or their website. First, in the 'settings' menu, go to the 'IP access' tab. This section allows you to block or allow individual computers to access your site based on their IP address.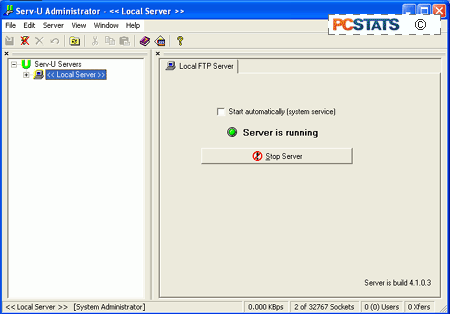 The 'activity' option allows you to view users connected to your domain. By right clicking on a connected user, you can send a message to him or her,

disconnect them, stop their data transfers or even eavesdrop on the commands they are sending to your server. The 'users' option contains the user accounts you have created within Serv-U.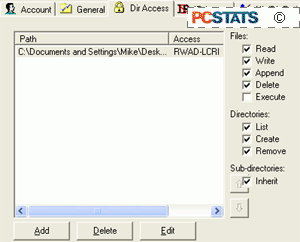 You will notice that the anonymous account is here, along with the named account that you created. Select the named account in the left-hand pane. From the user properties menu, you have several options: From the 'accounts' tab you can disable users and change their home directories.
The 'directory access' tab is extremely important, as it controls the rights this user will have once he is connected to your FTP site. For example, if you only wish clients to be able to read and copy files from your FTP site, give them the 'read' file permission and the 'list' directory permission. If you want them to be able to add and edit files, you must assign the 'write' and 'append' file permissions, etc.
This gives you a good starting idea of how to use Serv-U to set up your own FTP site. Be aware that the version you are using will revert to the personal version after 30 days. The limitations of the personal version are: 1 domain only, maximum of 5 users, one concurrent connection only, and no encryption. None of these are a problem if you wish to create a site to enable you to access your files remotely or allow a friend to download from your system.