The fourth tab, 'home directory,' allows you to configure which directory (folder) in your system will be accessed by the FTP site.

In the 'FTP site directory' section, you can choose this directory, and designate whether connected users will have permission to write to and/or read from the site, and whether their visits will be logged.

Choose the directory you wish to share files from, or leave it at the default and simply copy files you wish to make available into the directory using explorer.

Setting up an FTP site with third-party software

Since many PCSTATS readers may be using XP Home or Windows 9x/ME which do not include IIS and thus cannot be used to create FTP sites, we thought we'd run through creating an FTP server using third-party software. In this case we've chosen the popular Serv-U program by RhinoSoft.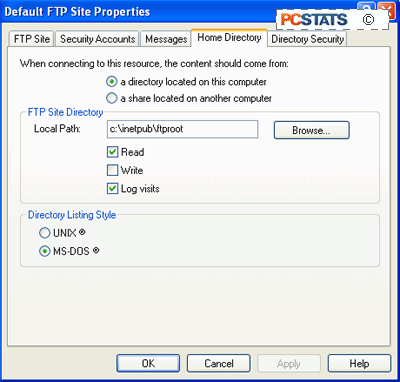 We chose Serv-U because its personal edition is free for non-commercial use, and it is quite easy to grasp for neophyte users. Serv-U offers some additional security and flexibility over the IIS implementation of FTP, at least with Windows XP. Let's look at setting it up...
Once you have downloaded and installed the software, start it up. The setup wizard will run. Press 'next' three times to start the FTP server. You will be prompted for your IP address. Leave it blank. Press 'next.'
You are asked to name your 'domain' (Serv-U's name for your FTP site). Choose whether you wish Serv-U to start automatically when you boot Windows, or to start only when you run the program from the desktop.