While tokens or passwords can cracked or stolen, biometric identifiers are much more difficult to reproduce. It is the task of biometric systems to apply a mathematical algorithm to the identifier (retina, or fingerprint for example) to determine if a user is a who they are pretending to be.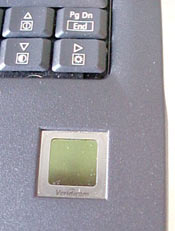 Some PC manufacturers now offer laptops with built in capacitive biometric fingerprint identifications systems. These authenticate users based on the similarity of their fingerprint to that of a stored fingerprint created when the software is first run.
Add-on biometric devices are also available for securing laptops that do not come equipped with these devices as stock. Use of Biometric devices can make it harder for thieves to access data on a stolen laptop, especially as many of the built-in solutions operate independently of whatever operating system you may be using; meaning the failure of correct biometric identification of the user will prevent the laptop from booting at all.
Biometric devices have a few disadvantages however. First and foremost, they are not foolproof by any means. Although most devices err on the side of caution to reduce security risks, this still can make them rather frustrating to use. Secondly, if your laptop did not come with a biometric security device built in, you will have to purchase a third-party add on that connects through the USB or PC card ports. While not generally that expensive, these must function with the operating system, and thus can be easily bypassed. They are very useful for securing data when combined with encryption software however.
Current biometric devices must be viewed as more of a password enhancement than an additional layer of security for your laptop. While built-in fingerprint identifying devices in laptops can have a security benefit, third-party devices give little benefit over simply using secure passwords and encryption to protect your property.
Manufacturers of third party biometric security systems include;
Targus ( WWW.targus.com)
DigitalPersona (https://www.digitalpersona.com/)
laptop identification programs
if your laptop is stolen, having the foresight to register the device with the manufacturer beforehand can give you a much better chance of eventually getting it back. if you have registered your laptop, when you report it as stolen, many manufacturers will track the serial number of the device. if the laptop is subsequently brought in for repairs, a record will exist. for obvious reasons, it pays to note the serial number of your laptop down, even if you do not register it.
you can also equip your laptop with an identification tag which provides proof of ownership and acts as a deterrent to theft. the most popular of these is the STOP program. While more geared towards businesses, these programs can still help home users.
Personalize your laptop
Along the same lines as the above ID methods, personalizing your laptop can make it much more likely for you to get it back in the event of theft. Though it may pain you to do it, placing your name or other information somewhere on your laptop is a good idea. By engraving identification information into the device itself, you provide yourself with some very tangible descriptive information which you can provide to police.