In order to be sure you cannot lose all your encrypted data in the case of an accident, you
need to export the digital certificate you just created for the recovery agent. This will
allow you to create new recovery agents in case something awful happens to your current
Windows installation.
Login to the user account you made the recovery agent in the last step.
Go to 'start\run' and type secpol.msc to bring up the local security policy.
Navigate to 'Security Settings\Public Key Policies\Encrypting File System.'
Right-click the certificate you just issued and choose 'all tasks\export.'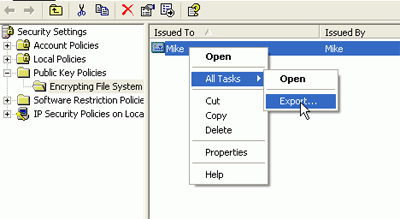 Select the 'DER Encoded Binary X.509 (.CER)' option, and click 'Next'.
Now specify the location you wish to export the certificate to, for example a floppy disk.
Keep it Safe, since anyone can use this disk to give an XP user account access to the encrypted files.
Now if the worst happens, you can follow the steps listed above to create a recovery agent, using the certificate you just exported. Best practice is to now delete the two files you created with the 'cipher' command in order to ensure that only you have access to the recovery agent.

Step 4: Do not leave unique data on your laptop
It might seem like common sense, but it's a good thing to keep in mind, believe me. If you are using your laptop for business, everything important should be backed up before you leave home. Likewise, when creating documents while traveling, burn them to CD or copy them to floppy as soon as possible, then carry that disk in separate luggage.
The bottom line is this, any time you travel with your notebook, whether it's an international flight or just the commuter train to work, your notebook may never return. If the thought of s loosing your laptop is akin to losing your first born, it's time to back up that data. After all, there is no better feeling than being able to write off a notebook which has just been whisked away in the back seat of a cab, dropped in a pool, or swiped from your four star hotel room and not have to worry about the sensitive data on it.
If you follow even some of the above suggestions, your laptop will be much more likely to stay with you for at least the duration of its warranty. Back up your data, use the security measures provided, and hopefully if your notebook gets lost or stolen your data will be safe at hand.
Find out about this and many other reviews by joining the Weekly PCstats.com Newsletter today!