On the 'file to import' page, click 'browse' then change the 'files of type' dropdown box to .pfx files.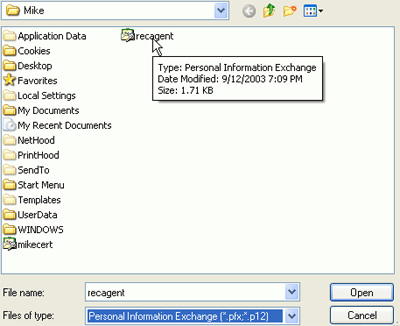 Select the filename you created with the 'cipher /r:' command. Type the password.
Check the 'mark this key as exportable' box.
Click 'next.'
Choose the 'Automatically Select The Certificate Store Based On The Type Of Certificate' option.
Click 'next,' then 'finish.'
Close the certificates console.
Go to 'start\run' and type 'secpol.msc' to open the local security policies.
Navigate to 'Security Settings\Public Key Policies\Encrypting File System,' and
Choose 'Action\Add Data Recovery Agent.' Click 'Next.'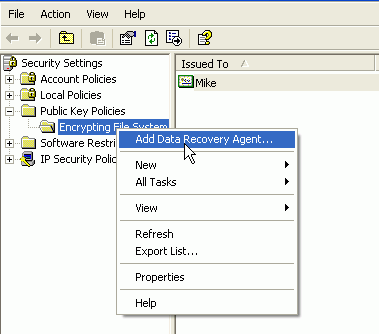 Click 'browse folders.' Open the filename you created earlier with the 'cipher'
command. Click 'next' then 'finish.' The current user is now a data-recovery agent and
can decrypt any EFS encrypted files on the system.