Similar to what we saw with FX5900 cards, the fan seems a little louder than the cooling solution on ATI's Radeon 9800 Pro, but it's still not loud by any means, and certainly quieter than several recent Nvidia designs.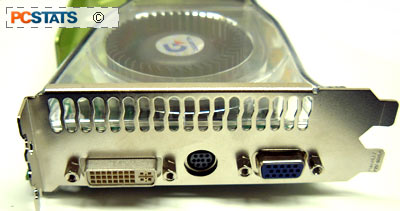 The Gigabyte GV-N595U's cooling 'hood' and fan can be removed fairly easily, exposing the large aluminum heatsink covering the core. Interestingly, this is clipped onto a frame surrounding the core with a method resembling that of an old socket 370 heatsink. This too is fairly easy to remove, for those who are into alternative cooling solutions.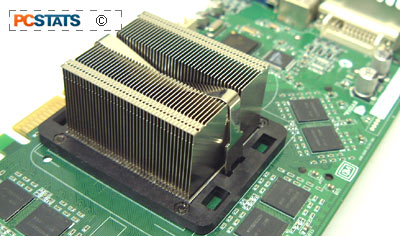 The GV-N595U requires an extra power connector, the plug for which is thoughtfully mounted at the rear of the card. Looking from outside the case, we have the standard VGA, DVI and S-video outputs.
As a result of the size of the transparent wind tunnel stuck onto the card, expect to lose the use of your top two PCI slots when you install the GV-N595U.
You might be able to squeeze a card into the second slot from the top, but judging from our test system, it would be jammed right up against the card, so it's probably better to leave it empty.
The card sticks out about 6cm from the rear of the AGP slot, so if your motherboard has IDE ports or memory slots in line with the AGP slot, you may experience some issues. Most modern boards avoid this problem, but it's something to look into.
As we mentioned before, the GV-N595U is a heavy card, so it's recommended that you use it in combination with a motherboard that has some sort of AGP retention mechanism to ensure that it doesn't wobble free when mounted sideways. Lacking this, make sure to screw the card into the AGP bracket firmly during installation, otherwise gravity could cause problems. We shouldn't have to tell you this though, right?