Consumers have become very aware of the temperature of their computer components; everything from the RAM in the motherboard to the videocard GPU, and of course the processor can effect how well a PC performs... especially an overclocked PC.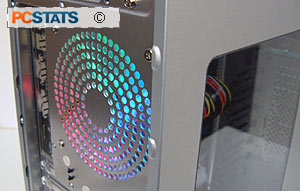 As computers run pretty hot these days, many people have equipped their cases with large 80mm or 92mm fans to help keep ambient case temperatures cool by circulating more air, faster, through the case.
Instead of applying that same theory to the A600, and introducing the often abundant level of 'whoosing' sounds that goes with it, the Aopen A600 uses just one single 120mm fan to do the job of many smaller fans.
If it's still too loud for your taste, there's a fan controller on the back that can slow down the fan even more. The case mounted fan speed selector allows the user to fine tune the speed of up to two different case fans with one of three settings (hi-med-low). In this way, the user can adjust both exhaust airflow and fan noise to their taste. The 120mm fan also has three LED's (Red, Green Blue) which certainly makes the case look a lot prettier.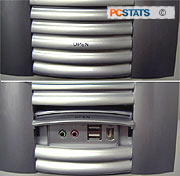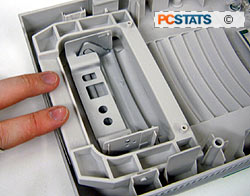 The front panel design is very clean and easy to understand. The large power button is easy to identify while the reset button is small enough that you won't hit it by accident. On the bottom is a plastic flap which covers the front audio ports as well as the USB and IEEE 1394 ports.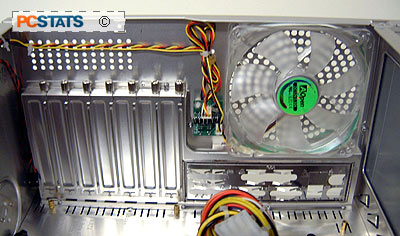 There is a catch just on the underside of the bottom of the front bezel which makes it easy to pop it off the case. This comes in handy, because the front bezel needs to be removed to install optical drives, or other 5.25" bay units on the rails.
You won't need many tools when working inside the A600 case as the side panels and the expansion slots are held together via thumb screws.
AOpen did a pretty good job at rounding the sharp edges inside the case. They did miss a few spots especially around the HDD/CD-ROM racks, so you'd better take care when mucking around inside the case!