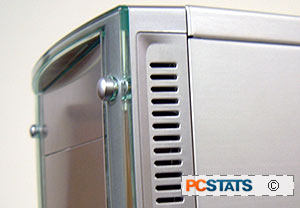 I have said this before and I'll say it again, there has never been a better time to be a computer enthusiast! It was only a couple of years ago where the only colour you could get your case in was white or beige... and just forget about case windows or pretty LED's...
Even in the dark ages AOpen was manufacturing quality cases, I remember being totally wowed by the level of quality with my first full tower case, AOpen's HQ08. It is reassuring to find AOpen are still doing as well with the new all-aluminum A600.
With a retail price of $160 CDN ($130 US) this case is quite affordable compared to many other aluminum cases on the market, and the A600 even comes with a 350W power supply!
AOpen obviously had the end users best interests in mind when they decided to use a 120mm case fan instead of an 80mm fan, which would create more noise. Who could forget to mention that AOpen uses thumb screws to attach almost everything; from the side panels to the AGP/PCI expansion slots.
If you're one to have many drives in your system, both optical and storage, the Aopen A600 will keep you happy with its six hidden, two open 3 1/2" drive bays, and four 5 1/4" bays. Mounting the HDD's is a snap with rail system. While the case window is a nice touch, it's a bit small, and set a little too far to the back for the best viewing of your fancy hardware.
In any case, pun intended, if you're looking for a well built aluminum case look no further than the AOpen A600. Installing hardware in this mid-tower is so easy, that you'll immediately understand what it is to work on a PC chassis that is actually designed well!
Find out about this and many other reviews by joining the Weekly PCstats.com Newsletter today!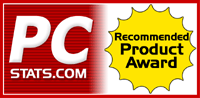 Related Articles

Here are a few other articles that you might enjoy as well...

2.