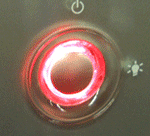 AOpen included a 350W power supply (ATX-350GU) with the A600 case which should be good enough for most users out there. Personally I would have expected AOpen include something a bit larger, as 350W for today's computers is cutting it tight.
Speaking of power, the front power button also glows several different colours; very cool! There are three LEDs behind the power button (one red, green and blue), and the different colour combinations, and intensities translate into a nice mix of colour up front.
We were happy to see that the A600 has large feet on the bottom of the case, the last thing you want is for your PC to fall to the ground because it was knocked over. The feet swivel 360 degrees so you can set them to stick out for extra stability if you want, or tuck them in under the aluminum chassis so they're out of the way.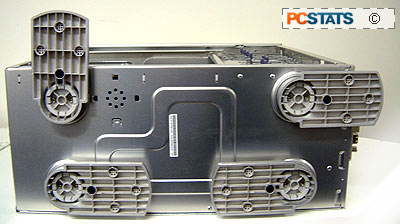 With case modding gaining in popularity, the A600 also includes a factory pre-installed window which is a nice touch. Having a case window is great but it looks like perhaps some of the AOpen engineers were rushed when designing it...
First the case window is too small and it's set too far back on the panel. Since PC's are often set next to the monitor, or placed towards the back, all you are likely to see are the expansion slots.
Perhaps AOpen could make the window a bit larger so one could see the CPU area a little easier when the case is sitting on the floor, or beside a monitor.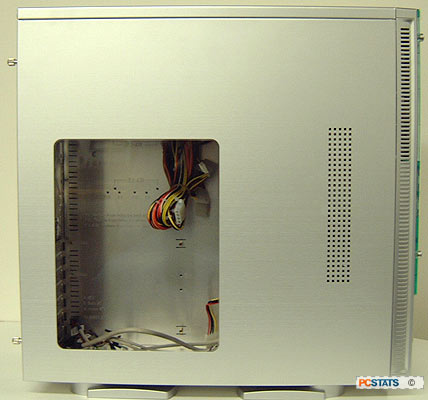 Another aspect of the case window worth mentioning is that since there are no screw holes in the panel, AOpen have attached the acrylic to the aluminum with double sided tape. Now I can't speak for others, but I know if the case window in my Lian Li case were taped in place, I probably would have knocked it in with my foot by accident a while ago.
The screwless joint is really nice, and certainly looks better, but if you have this case on the ground in an area where there are lots of people using it, keep in mind what we've just mentioned. Better yet, put the Aopen A600 up on the table so you can look through the case window easily, and have no worries about knocking in the side window. All the better to see those bright lights too!