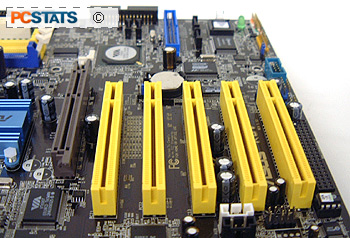 Historically, Asus motherboards have been built on a brown coloured PCB that was frankly pretty bland to look at. The Asus K8V-DLX/WiFiB is completely opposite - the board has a jet black PCB with colour-coded DIMM's, Northbridge heatsink and PCI slots. If you have a windowed case, this would be a nice board to show off at a local LAN party.

The layout of the motherboard is excellent; you're definitely not going to have problems installing longer or full length AGP/PCI cards here.

Almost all retail motherboards these days are well labelled and the K8V-DLX/WiFiB is no different. If you're not sure what a certain jumper or header does, there's bound to be a quick explanation on the PCB. If that doesn't satisfy your needs, then simply refer to the detailed users manual.

The main ATX power connector and IDE channels are located in their most ideal spot to the right of the DIMM slots. In that position those thick cables will not interfere with any of the other system devices.

Because Asus place the floppy drive port on the lower half of the motherboard, they tilt it 90 degrees to make it a little easier to get at, and to help the cable lay flat against the side of the motherboard tray.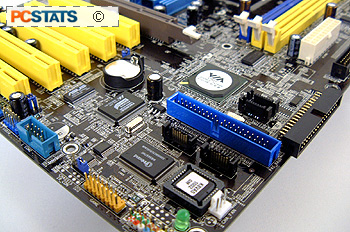 Finally, you will not have to remove the videocard to install memory as there's a ton of space available.
With all the USB devices on the market, it was nice of Asus to place four USB 2.0 ports on the rear I/O.... ad even one Firewire port! Having a lot of USB ports is nice but if you have to install headers that take up all the PCI slots, that's a bit redundant.
Since there are many high speed IEEE 1394 only devices, you don't have to worry about compatibility because the K8V-DLX/WiFiB has that built into the board care of a VIA VT6307 controller.
Serial ATA is obviously the way of the future, and while Serial ATA HDD's are now readily available, IDE hard drives are still more prevalent. We're happy to find an additional IDE channel thanks to the Promise PDC20378 chip, which means the Asus K8V-DLX/WiFiB will support up to six IDE devices.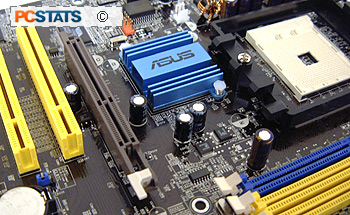 Because the Athlon64 heatsink applies a lot of pressure on the motherboard, Asus use a steel backplate to help ensure that the motherboard PCB does not warp due to the pressure. For those you who use more extreme forms of cooling... I think you'll be happy to know that in addition to this, the K8V-DLX/WiFiB uses mounting holes to hold the Northbridge heatsink on top of the VIA K8T800 chipset.
If you're interested in learning about VIA K8T800 technology please read PCstats' prior review of the MSI K8T Neo motherboard which goes into the specifics in good detail.
Not bad at all, but what about a little wireless 802.11b connectivity? Well, Asus have that covered too...