Installation and setup of the Asus wireless network adapter was extremely simple, but it may take a more experienced computer user to set up the software properly as one needs to know about networking before hand.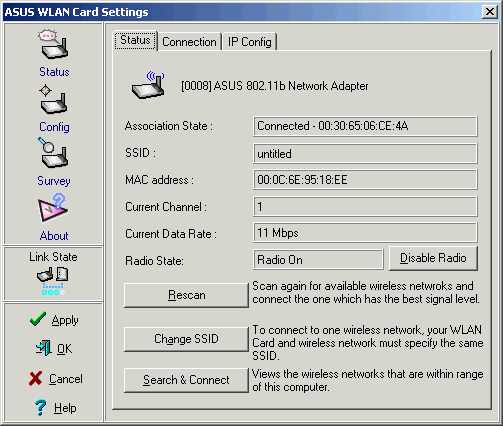 The Asus wireless software is pretty self explanatory. This is the status window and we can inquire about the connection type/speed and configure the IP/DNS settings.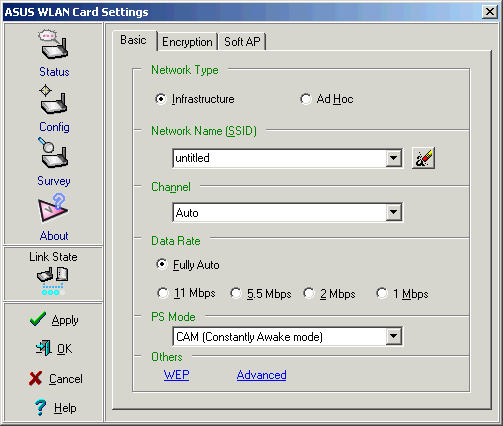 Yet more options here, we can set the speed at which the network operates at and the encryption level that's used. I always recommend that users apply WEP encryption to their wireless networks. If you don't, and your Wireless Access Point is set to DHCP, you are effectively giving internet access, and potentially network access to anyone within range.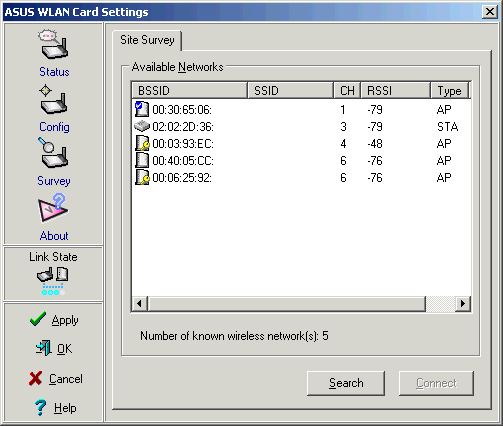 When we do a survey, the wireless network adapter searches for all the open wireless LAN's within the range. Some of the networks around our labs are not encrypted, and we could potentially access the internet through someone else's LAN. I'm sure if I wanted to I could probably access other things as well.... but that wouldn't be legal.
Testing the Wireless Setup:
To test the wireless setup, we installed NetIQ on the Asus K8V-DLX/WiFiB test machine and the NetIQ EndPoint on a second computer with WiFi. The TCP response time with the on board wireless setup was 8ms, as compared to 1ms when the 3Com Gigabit NIC is used. Maximum wireless throughput was 5.135 Mbps. With the wired setup, throughput was 73.395 Mbps. To put it in more understandable terms, transferring a 15MB file over the wireless connection took approximately 25 seconds, and when the same test was repeated over a wired Cat5 cable the file transfer took just 3 seconds. If you setup ICS (internet connection sharing) at home, 802.11b is perfectly adequate and can easily keep you happy surfing through the web, checking email, and streaming multimedia. Next up, overclocking tests!