With the Athlon64 processors multiplier limited, it's up to the motherboard manufacturer to decide if they want to allow multiplier adjustments. You can rest assured that Asus have given their end users that ability! Amazingly, we could run the board up to 220 MHz before the memory started to give us problems. However we also had to increase the memory voltage to 2.8V to address some instability issues. Up we went again, and at around 226 MHz FSB we again ran into a few stability problems, this time we had to raise the V-Link voltage to 2.7V.
After this the board hit the wall at 237 MHz FSB. No matter what we did, lower the memory divider or timings, nothing seemed to help which is a bit odd. Still 237 MHz is not bad at all for a stock motherboard!
The Asus BIOS: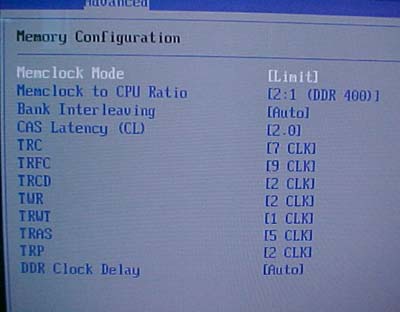 The tweaker will certainly love the K8V-DLX/WiFiB as it has a ton of memory adjustments. To be honest I don't even know what most of those tweaks do, I just set them to as low as possible...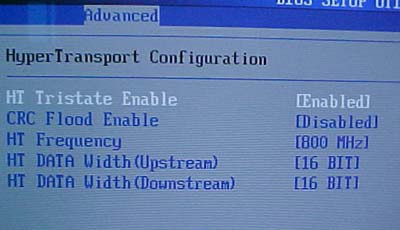 Asus allows the end user to tweak their HyperTransport links as well. From its frequency to data width, you can slow down HyperTransport if you want.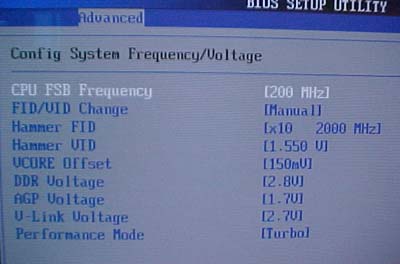 Asus allow the end user to change the boards frequency from 200-300 MHz. The board also allows for multiplier control (thanks to the latest 1003 BIOS), and we can access multipliers 5-10x. You can raise the CPU voltage to 1.55V but the VCore Offset allows you to raise that by another 0.15V. Maximum DDR voltage is 2.8V, AGP 1.7V, and V-Link 2.7V. Performance Mode options were Auto, Safe and Turbo (we used turbo during testing). Now for the benchmarks.