Abstract: Power surge protection and the quality of electricity supplying a computer are probably the two most overlooked factors which can seriously impact the stability of your PC.


80% Rating:

Home > Reviews > Power Supply > Belkin 1000VA
UPS Tests: Variable Utility Power Tests
With the Sencore PR57 supplying AC power to the Belkin 1000VA UPS, we adjusted the voltage from 120VAC up to 140VAC to simulate a spike in the utility power supply. When the Belkin Universal 1000VA UPS cuts itself off from the AC input and switches to its alternate source, we'll be monitoring what happens to the output voltage as the UPS strives to compensate in that split second.
With a computer running off the UPS power supply, we use a Digital Multimeter to measure the voltage levels, and more importantly, where the output voltage dips during the switching process. The switch from AC to battery power occurs rapidly, but not instantaneously... If the output voltage dips too low, for too long, it can cause instability in a sensitive powersuppy and disrupt the computer.

UPS Output Voltage & Variable Utility Supply (+/- 3%)
Under-Voltage
Trip Points:
Over-Voltage
Trip Point:
Lowest Output Voltage:
50V
60V
70V
80V
90V
100V
110V
115V
120V
130V
140V

Utility VAC

Belkin 1000VA
102
102
102
102
107
117
127
115
120
128
98

122

110, 90

135

98

Powerware 5125
120
120
120
120
114
112
108
115
120
114
124

124

110, 95, 85

127

107

No UPS, idle.
-
-
-
80
90
100
109
115
120
130
-

123

-
Test Observations: The Belkin Universal 1000VA UPS output voltage fluctuated during the 90V utility undervoltage trip point from between 102-117VAC as a mechanical relay moved the test load (computer) from one power circuit to another. The lowest we saw UPS output voltage reach was 98VAC, though only for a very brief moment during the change over from one source to the other.
Throughout the variable utility supply tests, the computer remained powered on, and did not restart. Most APFC powersupplies are rated for operation with between 90V-240V, and more common PFC powersupplies (where the user must select 115V/220V) are able to make do with as low as a 100VAC utility supply.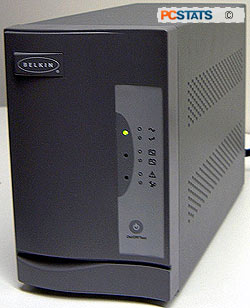 Hopefully the North American blackout in August and ever reoccurring solar activity will convince more consumers to think about their power situation, and about how valuable their data is. I find it amazing that people protect their PC's with the cheapest surge protector available... and yet easily spend a few hundred dollars on a videocard.
With a retail price of $184 CDN ($140 US) Belkin's Universal 1000VA UPS is very aggressively priced. The UPS comes with a three year warranty, $300,000 connected hardware as well as a data recovery warranty. That means if the UPS fails and actually fries your PC, Belkin will give you a new UPS, pay you for your PC (up to $300k) and pay for recovering the data from your drives! Talk about going all out for the end user, this certainly gives a potential customer peace of mind!
The Belkin Universal 1000VA performed as well as we expected during the power failure tests, lasting as long as an equivalently sized 1000VA UPS. Obviously your mileage may vary depending on the power of your system, but even with the fastest desktop PC plugged in, the Belkin Universal 1000VA will give you enough time to save your work and shut down safely.
If you're still using just a surge protector for your PC perhaps it's time you think about buying a UPS. They do cost a bit more, but in the long run they might save you thousands of dollars, time and headaches. I use a UPS at home personally, and I would never think of powering a PC without one anymore.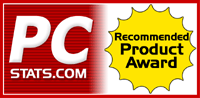 Find out about this and many other reviews by joining the Weekly PCstats.com Newsletter today!

Related Articles

Here are a few other articles that you might enjoy as well...

Belkin Universal UPS 800VA Review
3. PC Power & Cooling Turbo-Cool 510-PFC Power Supply
4. Vantec 470W Stealth Powersupply Review
5. Antec TruePower 430W Power Supply Review
6. Powerware 5125 1000VA UPS Review