Abstract: The PC4200 DDR is rated to run at 250 MHz, with memory timings of 3-4-4-8 while using a voltage of 2.75V.


80% Rating:

Filed under: Memory
Published:
Author:
External Mfg. Website: PMI
Apr 06 2004
C. Sun

Home > Reviews > Memory > PMI 4200-512DG
PMI 4200-512DG PC4200 DDR Memory Review
---
Buying enthusiast calibre memory is not an easy task these days. With so many different models and brands competing for your attention, it's easy to get lost. Should you get high speed DDR that overclocks to crazy speeds, or DDR which just has better latency? It's a difficult choice, and one that depends somewhat on the type of computer system you use.

Ideally, the best case scenario would be high speed low latency DDR - but no manufacturer appears to able to manufacture DRAM to such stringent requirements. DDR2 takes a bit of the pressure off the situation, but since AMD won't be going that route till 2005 there is still a need for low latency DDR memory.

Power Memory International, or PMI

, is based in Freemont California and has been around for about 14 years. Until recently they've been more of an OEM manufacturer supplying memory to HP, Compaq, etc. PMI manufacture their own PCBs and source DRAM modules from other memory manufacturers as is typical of many boutique enthusiast DDR brands. It shouldn't be surprising that OEM's are attracted to PMI, after all they guarantee 100% compatibility with their PowerMemory line. With their new TurboMemory line of DIMMs, it looks like they're gunning for the top enthusiast spot for the Intel platform.

Today PCstats is testing out PMI's PC4200 dual channel kit (2x 256MB DIMMs). The PC4200 DDR is rated to run at 250 MHz, with memory timings of 3-4-4-8 while using a voltage of 2.75V. Now PMI did not state what platform this memory is intended to run on specifically, but like all other high speed DIMMs, the PMI 4200-512DG is best suited towards Intel solutions.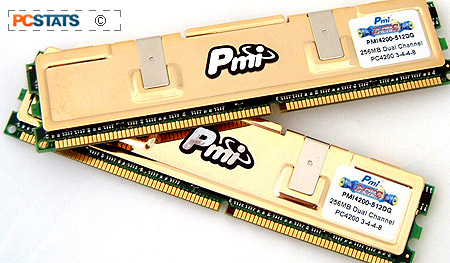 While they look nice, the gold plated copper heatspreaders do little to help keep the DIMM cool. They do however protect the DIMM's from physical damage which is definitely good. I don't know about you but I have killed memory by knocking off resistors.
Under the Armor
I anticipated the PMI PC4200-512DG DIMMs would be built with using HY5DU56822BT-D43 Hynix memory. but instead PMI eqipped the sticks with Hynix HY5DU56822CT-D5 TSOP-II DRAM. Interestingly enough, there's no D5 revision in the HY5DU56822CT datasheet! Does this mean a custom blend of DDR?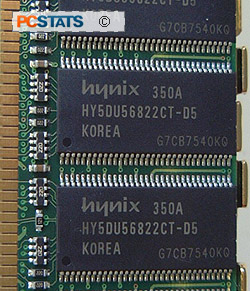 Each of the sticks of PMI PC4200 DDR is single sided with eight 32Mb DRAMs; good news for anyone with four or more DIMM's in their system. With two banks per DIMM, the PMI memory will not make you go over the bank limit. You see, memory controllers have a bank limit, with desktop chipsets the limit is usually four or six. If you're using two double sided DIMM's with a chipset limit of four banks, even if you have DIMM slots available, you won't be able to add any more memory because the controller cannot address it. This goes for both Intel and AMD systems.
Warranties often show how much confidence a manufacture has in their products, and looking at the PMI PC4200-512DG DDR, we find it has a lifetime warranty. Can't get better than that now can you?
Just because the PMI kit of 256MB PC4200 DDR is intended for Intel systems doesn't mean that we're not going to test it out on AMD. Plopping the PC4200-512DG DDR memory into an Athlon64 test system, I was actually able to run the PMI PC4200-512DG with 2-3-3-6 memory timings at 200 MHz! Not bad for high speed DIMM's, most would simply choke with a CAS Latency of 2.
We actually had more luck overclocking the PMI PC4200-512DG DDR memory than we usually do with other high speed DIMM's. With a voltage of 2.8V we were able to hit a maximum of 217 MHz; not the highest we've seen but not bad on the Athlon64.
On the Intel side of things, we were also impressed to see that we could use 2-3-3-6 timings at 200 MHz FSB with the PC4200-512DG DDR. We couldn't overclock very far with those timings however, topping out at 213 MHz FSB. Loosening the timings to 3-4-4-8 allowed us to go much higher.
To reach 250 MHz or the default speed of the PMI PC4200-512DG DDR memory, we needed to raise the voltage to 2.8V, but that's only 0.05V above stock. In the end we were able to hit 263 MHz FSB which is definitely very good for PC4200 memory! The PMI PC4200-512DG doesn't seem to like high voltages though, going higher than 2.9V was actually detrimental to overclocking.