The chart here shows the naming conventions and specs for the first three DDR2 standards to be released. Notice that DDR2-400 features exactly the same bandwidth as DDR-400 memory. More on this in a moment.

DDR2 memory modules will start off at 256MB capacities, with 512MB and 1GB available. The standard is capable of considerably higher memory densities though; modules of up to 4GB are defined in the specifications, and are available for specialized applications (though these will not be compatible with desktop chipsets, for the time being at least). Higher capacities should be achieved in the future.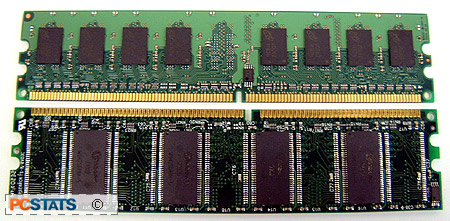 All DDR2 memory chips (called DRAM) will use the FBGA (Fine Ball Grid Array) method of packaging, allowing higher memory densities in considerably smaller chips, with better electrical and thermal properties. Some DDR modules use this method now, but it becomes part of the standard with DDR2.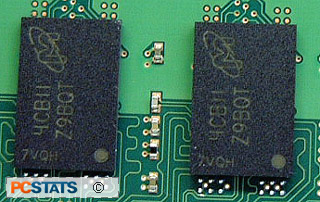 The older style associated with DDR, and SDRAM, is the TSOP-II package, shown on the lower memory module above. Also note the differences in the number of gold electrical contacts along the leading edge of each module.
DDR2 memory will use 1.8 Volts for power. This is a considerable drop from the 2.5 volts used by conventional DDR memory, and should result in cooler and less power hungry memory modules. This will be especially significant for laptop designers, but will also have a positive impact on the amount of heat produced by desktop memory.
How does DDR2 manage to reduce power consumption while increasing speed? Well it's tricky. Read on and we'll tell you.