Introduction to DDR-2: The DDR Memory Replacement
---
Spring is here and things are happening in the computer world. Already there are several technologies waiting for their promised turn in the spotlight, such as PCI-Express, the BTX form factor, and Intel's next set of chipsets for the Pentium 4. To these you can add DDR-2, an evolutionary upgrade to the current memory standard, DDR-SDRAM.
DDR2 is in fact already here. Companies including Micron, Crucial, Kingston and Corsair have already begun shipping DDR2 memory modules, though there are no desktop applications for it as yet. In this article, PCstats will look at the features and specifications of DDR2 memory, and take a sneak peek at some of its future applications, like the upcoming Intel i915P 'Alderwood' and i925X 'Grantsdale' chipsets.
What is DDR2? Well, it's a new memory standard, as defined by JEDEC (Joint Electronic Device Engineering Council), whose members include many of the major computer memory and chipset manufacturers. JESD 79-2A to be exact. DDR2 picks up where DDR memory currently stops, at 400MHz.
While you might have seen reviews of recent video cards with DDR2 memory, the memory used in these cards is actually a separate type developed specifically for the video card market, and slightly different to the 'desktop' DDR2 memory we are now exploring.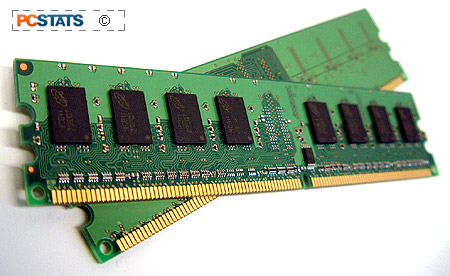 Shown above is a pair of 256MB modules of DDR2 PC4300 RAM (533MHz) from Crucial memory. DDR2 modules have 240-pins, compared to the 184-pins of DDR, meaning they are not backwards compatible.
DDR2-SDRAM is considered an evolutionary upgrade over existing DDR memory. It maintains the same core functions, transferring 64 bits of data twice every clock cycle for an effective transfer rate twice that of the front-side bus (FSB) of a computer system, and an effective bandwidth equal to its speed x 8.
Of course, DDR2 introduces some new features which allow it to ramp up to much higher speeds (with correspondingly higher bandwidth) and higher memory densities, all the while using less power. Sounds good doesn't it? Let's look at the 'big' facts first, before we explore the memory in detail. DDR2 memory uses a new form factor, a 240 pin DIMM (Dual Inline Memory Module) which is *not* compatible with current DDR memory slots. Upcoming chipsets by Intel and other manufacturers will support DDR2 specifically, and are not backwards compatible.
In terms of speed, DDR2 will start up where DDR memory left off, at 400Mhz DDR, also described as PC3200. DDR2 will also be available at 533MHz DDR, 667MHz DDR and 800MHz DDR specifications.