What is certain is that DDR2 presents an attractive option for memory makers, allowing them to ramp up memory speeds (which everyone wants) while keeping the manufacturing process efficient. DDR2 prices are currently more than double that of normal DDR, but there is not really a market for the modules yet, so prices are expected to fall steadily.
It is our opinion that DDR2 is the future of desktop computer memory, simply for the lack of any other viable choice at this time. Intel and AMD are going to continue to ramp up the speed of their CPUs, and DDR2 offers the most effective way for memory to keep pace with this.
The first platforms for DDR2: Intel's Alderwood and Grantsdale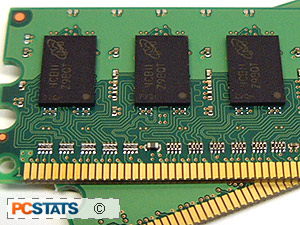 Intel's upcoming i925 Express (Alderwood) and i915 Express (Grantsdale) chipsets will likely be the first desktop level DDR2 compatible parts. These two chipsets will introduce a number of new technologies to the market in addition to DDR2 support.

They will use Intel's new socket for the Pentium 4 processor, socket LGA775, and it appears that both chipsets will be PCI-Express 16X only for graphics, lacking AGP interfaces. PCI-Express will be used for peripherals as well as graphics, with PCI-Express 1X slots replacing some of the more traditional PCI slots. These will be used for higher-bandwidth peripherals such as Gigabit Ethernet cards. For more details on PCI-Express technology, see our in-depth article here . The twin chipsets should also serve as a bridge to the new BTX motherboard form factor. Both are expected on the market in June of 2004.

Indications are that the i925 Express chipset will function exclusively with DDR2 memory, using dual channels and starting at 533MHz DDR2. The i915 Express will be capable of both DDR and DDR2 support, though most manufacturers will likely opt for the safer choice of DDR at launch.

It's possible, though apparently unlikely according to Intel, that we could see i915 implementations which support both memory types on the same motherboard, which would make the chipset an effective path for upgrading. The i915 will be available in a variety of configurations, some including onboard graphics.

Other new features are provided by the Southbridge that Intel has prepared for the chipsets. The ICH-6 Southbridge comes equipped with 4 PCI-Express x1 channels, as well as the expected Serial ATA and 10/100 Ethernet. It will communicate with the Northbridge chip via a new interface, the DMI (Direct Media Interface), a serial connection that will deliver around 1GB/s in each direction.

More interesting are the variants that Intel will apparently offer for this chip. The ICH6-W will integrate Wireless access point functionality, allowing the computer (with the addition of a wireless network adaptor, since the chipset does not contain an actual wireless transmitter) to function as the 'hub' of a simple wireless network. Very nice.

The ICH6-R will add hardware RAID 0 and 1 functionality, and double the available serial ATA ports. All versions of this chip will sport Intel's new 'High Definition Audio' onboard sound, providing 24-bit, 192Khz audio and up to 15 channels. As we said, look for the first i925 and i915 Express boards featuring DDR2-SDRAM in June 2004.

Find out about this and many other reviews by joining the Weekly PCstats.com Newsletter today!

Related Articles

Here are a few other articles that you might enjoy as well...

2.