Abstract: If you though Pop-ups were annoying, just wait until your web browser is hijacked! In this guide, PCstats shows you how to regain control and kick out the hijackers, kung-fu style...

Home > Reviews > Beginners Guides > PCSTATS
Repairing a browser hijack
So your browser is sending you to www.youbuynowdammit.com every time you open it? Can't seem to change it, and obscene ads are popping up all over? Fear not, PCstats is here.
Quick note: Dealing with popup overload
Have you ever mistyped a URL and ended up with a never-ending tide of filthy pop up ads which you frantically attempt to close before your spouse/boss/grandma walks in? If so, you'll be relieved to hear that there is a quick and dirty way to stop this without shutting off the computer or the monitor. On Windows XP or 2000, simply press CTRL+ALT+DEL and go to the 'processes' tab. From here, highlight 'IEXPLORE.EXE' and hit 'end process.' This will close all open IE windows. Now you can reopen the browser in peace.
Fixing a reset Homepage
First of all, try changing your homepage back to its normal setting. This will likely not work, but it's worth a try and will help us to gauge the severity of the problem. From Internet Explorer, go to 'tools\internet options' and change the home page address back to your normal site.
If you have noticed that new entries have been added to your 'favourites' list, remove them by going to 'favourites\organize favourites' and deleting the offending entries. Now restart your computer and reload IE. Are things back to normal? If so, great. If not, read on.
Using Ad-aware
First things first. If you have not already, download and run Ad-aware. Make sure you update the program first via its built in procedure so that you know you are up-to-date. Do a full system scan and make note of any findings, especially processes and registry changes.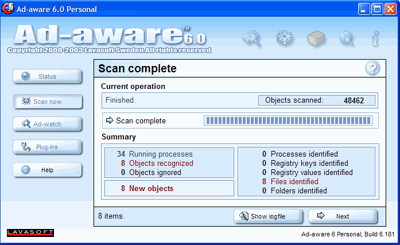 Delete all items found by the program, then make sure to empty the recycling bin.
Now restart your computer and run Ad-aware again, with the same procedure. Hopefully you will get a clean bill of health. If so, try your browser again. If everything is back to normal, great.
If not, try setting the home page and deleting any new favourites manually, as detailed above, then restart your system again.
If your browser is not back to normal by this point, or if Ad-aware is still picking up nasty processes and registry entries, it's time to move to the next step.
< Previous Page
© 2022 PCSTATS.com

Please respect the time and effort that went into creating each PCSTATS Beginners Guide, do not illegally copy. Thank you.

Next Page >