Now let's check the Windows registry.Open the registry editor by going to 'start/run' and typing 'regedit.'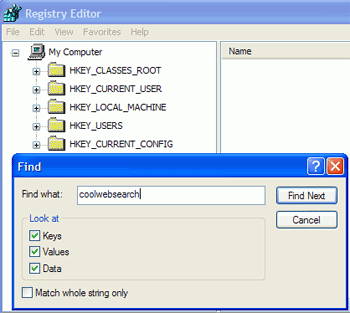 From here, open the 'edit' menu and click 'find.' Now type in the URL of the web page you are redirected to by the browser hijacker. If you find an entry, delete it and press F3 to continue searching through the registry. Delete all matching registry entries, but first make a note of their contents, looking for any keywords. You can do successive registry searches on these words if your problem is not fixed.
Now empty the recycling bin again for luck and restart the computer. Check to see if your problem has gone. If it has not, there are likely settings in the registry which you missed. Try all three manual searches again. Using the above methods should quickly make your browser hijacking a thing of the past.
Now that your computer is clean again, please be careful. Increasingly, the dark corners of the Internet are a dangerous place to surf. Be sensible, follow our tips and keep your guard up. Note that browser-hijacking programs are constantly emerging and changing, just like computer viruses, so it pays to keep your scanning programs updated. Scanning your computer weekly for spyware and viruses is always a great idea too.
Most of the tools used in this article are provided free of charge by individuals who have made wiping out browser hijackers and other spyware a personal crusade. If they worked for you, show your appreciation.
Find out about this and many other reviews by joining the Weekly PCstats.com Newsletter today!