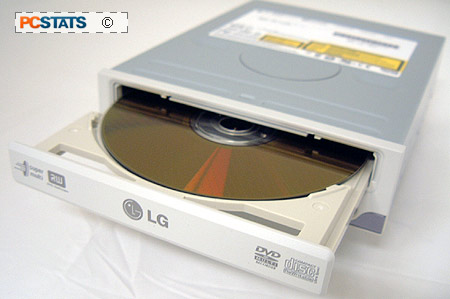 CD/DVD writers will probably go down in history as the first widely used mass storage device. Sure there were tape drives, Zip disks, etc. but none offer the flexibility of CD/DVD burners. The limit of conventional CD's has long since been broken, so I expect you'll start to see software programs migrating over to DVD more an more in the coming years.

Already, a couple of the benchmarking programs PCstats tests with are being shipped on DVD-ROMs. After all, who wants to carry around three to five CD's when all the data can fit onto a single DVD disc with room to spare?

LG's GSA-4082B burner is compatible with all recordable DVD media; DVD-RAM, DVD-/+R and DVD-/+RW. While that is very handy in and of itself, the LG GSA-4082B drive naturally also offers backwards compatibility with all your favorite CD media; CD-R, CD-R/RW, etc.With a retail price of $115 CDN ($83 US) the is one of the more affordable DVD burners on the market, especially considering the broad compatibility it brings to the table.

The LG GSA-4082B's reading performance (CD, Audio, DVD) was pretty fast overall, but access times were higher than the other drives we compared it against. Some users may feel 24x CD-R and 16x CD-RW are a bit slow for their needs, but since the focus with this drive is on DVD burning, this is not unexpected. Also, it's difficult to draw direct comparisons against the other drives we have benchmarked, as they don't offer the same burning capabilities as the LG GSA-4082B does. As it stands, this LG drive handles DVD-RAM and DVD+RW media with ease, at records DVD-/+R media at 8X, DVD-/+RW media at 4x, and DVD-RAM at 3x. During testing the drive performed to spec, which is the most we can hope for from any optical drive.

LG includes B's Recorder GOLD Basic burning software with the LG GSA-4082B and while it's not as common as some of the other alternatives, it's just as capable. Whether you're burning CD's or DVD's everything is very easy and user friendly.

Overall the LG GSA-4082B is a very nice well rounded drive; it handles all recordable DVD formats at the current top of the industry speeds, but isn't really able to set itself apart on the CD-R/RW front. However, If you were to buy the LG GSA-4082B drive, I'm sure you'd be quite pleased with its performance.

Find out about this and many other reviews by joining the Weekly PCstats.com Newsletter today!

Related Articles

Here are a few other articles that you might enjoy as well...

2.