LG GSA-4082B Super Multi DVD Rewriter
---
When CD burners were first introduced, most applications would fit onto one CD, so backing up an entire HDD would only require a few CD's at the most. These days, most applications will span several CD's, or use one 4.7GB DVD... As hard drives sizes have ballooned in size to upwards of 200GB, it's not uncommon for consumers to wonder just how they can back up their data these days; especially since CD-R's hold less than a Gig.
That brings us to DVD burners, which are the next logical step in recordable media. After all, a standard DVD-/+RW disc holds about seven times more data than a regular 650MB CD-R, and DVD-/+RW's are rewriteable like regular CD-R/RW's. The LG GSA-4082B drive PCstats is testing in this review tackles CD-R/RW and DVD-/+RW media as well as DVD-RAM discs. The LG GSA-4082B can write DVD-/+R media at 8X, DVD-/+RW media at 4x, DVD-RAM at 3x and read DVD's at 12x.
For standard CD media, the drive can burn CD-R's at 24x, CD-RW's at 16x and read CD's at 32x. The drive has a 2MB cache as well as BURN proof technology. Essentially, with this one drive, all of your recordable optical media requirements are covered in one sweep.

LG GSA-4082B DVD Writer



Includes:

Users Manual, CD Software Quick Guide, Software CD, Ultra/33 IDE cable, Analog audio cable, drive screws.
LG's GSA-4082B is one of the "prettier" drives on the market; one of the few perks of buying retail is the better looking drives. The LG GSA-4082B has a clean front face, save for the eject button and a LED light indicator. Measuring in at just over 19cm long, and weighing in at 940g, the GSA-4082B is a full sized drive; something to consider if you have a cramped SFF PC in mind.
The software package that comes with the LG GSA-4082B is better than with your average DVD burner. LG include a full version of PowerDVD, PowerProducer GOLD, B's Recorder GOLD and B's CLiP. It's nice that the LG GSA-4082B comes bundled with all the software you'll need to take advantage of the drive, be it playing or burning DVD's - either way you're set.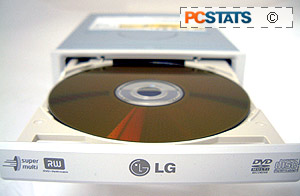 The LG GSA-4082B supports all the usual writing methods such as TAO (Track at Once), DAO (Disc at Once), SAO (Session at Once) and Packet Write. DVD writing formats are Disc at Once, Incremental Recording, Restricted Overwrite (DVD+RW only), Random Write and Sequential Recording.
Like all modern optical devices, the LG GSA-4082B can be placed horizontally or vertically thanks to the tray clips. At the rear we find connectors for Digital Audio Out, Analog Audio Out, Master/Slave/Cable Select jumpers, IDE connector and of course the molex power connector. LG ship the drive with an IDE cable, the 4-pin analog audio cable, some mounting screws, instructions, recording software, and a free DVD-RAM disc to get you started.
For those of you who are sound sensitive, the LG GSA-4082B is somewhat loud when reading data CD's. It doesn't seem to have this problem with other media though... but when the drive is reading data CD's it'll definitely make a loud hum.