Beginners Guides: Printer Sharing on a Home Network
---
A quick and easy guide to networking your printer at home without having to buy any extra hardware for the job. - Version 1.2.0
Printers are essential modern conveniences, connecting with your computer to offer you the power of a small copy shop in your living room. However, printers can rapidly become inconvenient if the other members of your household have to transport the files they want to print to a certain computer in order to print them. Wouldn't it be much better if every computer in the house or office could print directly?
In this short but sweet guide, PCstats will look at how to make a printer available over your home network using Windows XP's built-in sharing abilities. Since most of us use USB or parallel connected printers, we are going to assume that this is the same for you. This article assumes that you have a printer correctly installed on a Windows XP computer and a working network connection to at least one other computer. If you need help in setting up your home network, be sure to read PCstats in depth guide to Home Networking and Wireless Networking before getting started here.
Preparing for sharing
First things first...please make sure you have the latest drivers installed for your particular printer. Check the manufacturer's website for updated versions if you are unsure. Though they may not be necessary, download drivers for all the operating systems present on your network. Place the XP printer drivers in an easy to remember location, or on a disk or CD since you my need them even after you install them.
To set up a printer for sharing we'll first need to share your current printer, meaning we will make it available to the other computers on your home (wired or wireless) ethernet network.
Go to 'start/control panel' and choose 'printers and other hardware' then 'view installed printers or fax printers.'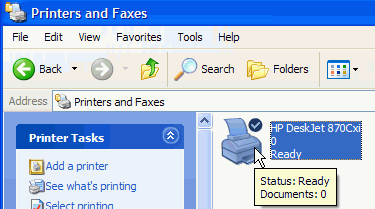 Right click on the printer you wish to share and select 'sharing…'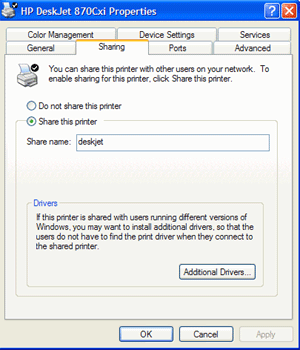 Choose the 'share this printer' option and give the printer a share name. Note that this name will be used to locate and identify the printer over the network, so it should have no more than 8 letters and no spaces or characters.