Gigabyte GA-7VT600-RZ Motherboard Review
---
Most of the computer hardware community has been focusing on Pentium 4 and Athlon64 CPUs, but we shouldn't count out the trusty ole AMD K7 just yet. In fact there are probably still more users with AMD Athlon or AthlonXP based systems than there are Athlon64's! And as there are no killer applications or 64-bit operating systems (or games) on the market, why should an average user upgrade, other than perhaps for bragging rights?
While manufacturers like to promote their newest wares, based on the latest and most expensive technology, they can't get by on that alone. At the local computer stores that I visit regularly, AthlonXP components are still much more popular than any other platform, and yet new AthlonXP motherboards are rarely seen!
Gigabyte have taken steps to fill in this void, in the form of the newly released AthlonXP-based 7VT600P-RZ motherboard, powered by a VIA KT600 chipset. Gigabyte are promoting the RZ-series to consumers on a budget, and they may just be onto something. For anyone thinking about giving their prized Socket A systems one last upgrade before moving on to something else, there just aren't that many options anymore.

Gigabyte GA-7VT600P-RZ



Includes:

Users Manual, Quick Installation Guide, Driver CD, Ultra/133 IDE Cable, Floppy Drive Cable, 2x Serial ATA Cable, Molex Y Serial ATA Power Cable, Rear I/O Backplate, USB 802.11b Network Adapter, Wireless Manual, Wireless Driver CD, Motherboard Driver CD
Built around VIA's KT600 chipset, the Gigabyte 7VT600P-RZ motherboard will support any 200/266/333/400 MHz AMD Athlon or AthlonXP processor on the market. It's three DDR DIMM slots can be equipped with a maximum of 3GB of PC3200 memory - more than enough for most consumers. In terms of features, the Gigabyte 7VT600P-RZ is pretty lean.... it really only has a 10/100 LAN and 5.1 audio onboard.
There are five PCI slots for future expansion, and the standard assortment of USB ports (8) along with two SATA headers as well. The board layout here is nice, with the main ATX power connector and located nicely alongside the right of the DIMM slots, and all the ports and headers are located at the very bottom of the motherboard.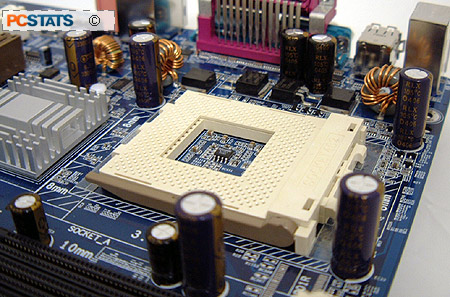 The CPU socket is flanked by some rather tall capacitors, which is a bit unfortunate, since this makes installing larger socket A heatsinks a bit of a challenge, though more on this in just a moment. The Gigabyte 7VT600P-RZ doesn't require the ATX12V connector, which is good news for those of you with older power supplies. Even though the 7VT600P-RZ is touted as a budget motherboard, thanks to the VIA T8237 Southbridge the board does at least boast native Serial ATA support.