There are a number of reasons to update your BIOS. Newer revisions can give support for new lines of processors and features as they are released. They can also increase the stability and performance of the motherboard and provide new options for timing and overclocking your system.
While a BIOS upgrade is not essential, you should certainly check to see what is available. Motherboard manufacturers will provide a list of fixes and features with every new BIOS revision they release, and it's worth your time to peruse these to see what you could gain with the update.
As a good example, when AMD first release their AthlonXP+ line of processors, they used the same socket A connector as the previous line of Athlon CPUs. While the AthlonXP+ processors were mechanically suited to attach to older socket A motherboards, some differences in voltages and other requirements rendered them incompatible. Fortunately, many manufacturers soon released BIOS revisions which allowed some older Socket A boards to recognize and use the new AthlonXP+ processors.
Are there risks when updating a BIOS? Yes, but only in extreme circumstances. Your motherboard does need a properly working BIOS in order to boot the computer, and the CMOS is vulnerable for a few seconds while you are overwriting the old information with your new BIOS revision. If the power to the PC is cut, or the computer is reset during this operation, the BIOS file can become corrupted. This will essentially leave you with a dead motherboard.
Fortunately, many manufacturers are now instituting some form of BIOS recovery technology in their motherboards to protect against this type of emergency. Generally this takes the form of a second copy of the original BIOS, stored on a second CMOS chip, which can be restored in case of a disaster with the primary BIOS. Check your documentation to see if you have a feature such as this available; it is also wise when upgrading to a new motherboard to only consider purchasing boards with a backup BIOS. Also see the troubleshooting section at the end of this article for more info on this point.
Upgrading your BIOS
Now let's go through the various procedures needed to update your motherboard's BIOS.
First you need to find out if there is a BIOS update available for your motherboard model, and if there is, whether you need it. Before we go searching for that information, you will need to locate your motherboard model number/name. This can be done by looking at the documentation that came with your system, or even just by opening up the case and looking for the name silk screened onto the motherboard.
If you have a system that was built by a major manufacturer, such as Dell or IBM, look on the manufacturer's website under your system's name or number to find updates.
If your computer was assembled by a smaller manufacturer, look for the motherboard manual to identify it. If this fails, use a program like Sisoft's Sandra to identify your motherboard model and manufacturer.
To determine your motherboard make and model through Sandra first down load and install the program. Start up Sandra and double click 'mainboard information.' This should give you both the manufacturers name, and the model number of your motherboard. Note down that information.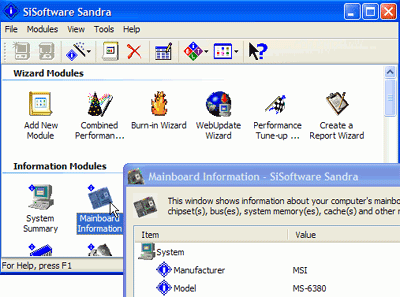 Once you have your motherboard manufacturer name and model, it's time to find your motherboard's model, current BIOS revision and look up what newer BIOS revisions are available. There are two ways to do this, the first through the manufacturers automatic BIOS update software, and the second by searching through the manufacturers website support section.