Once the PC has found the A:/ drive, and booted into DOS, it should leave you at the A:/ prompt. At this point, replace the boot floppy disk with the floppy containing the BIOS update files.
If your BIOS update included a batch file, type in its filename now at the A:/ prompt and press enter. It should automatically start the BIOS flashing program and provide it with the data file to be used. All you need to do now is give the go-ahead to start the actual writing process.
If you do not have a batch file, enter the file name of the executable file on the disk at the A:/ prompt; for example A:/flash879.exe or A:/awdflash.exe. Hint, just type in awdflash.exe, and not the "A:/" part ;-)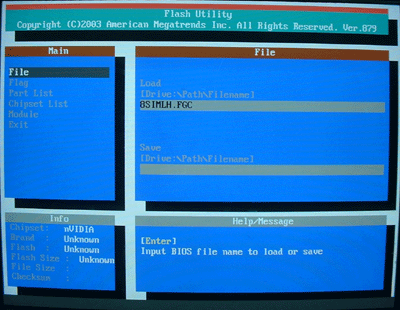 You will be prompted for the filename and location of the data file. Enter A:\(datafilename).
You will also be offered a chance to save your existing BIOS. It's a good idea to have a copy of a working BIOS in case of an unexpected emergency. If you wish to do this, enter a valid location such as another floppy disk or a location on your C:/ drive.
Once you have entered the information, press ENTER or 'F' to start the flashing process. Read the warnings and confirm.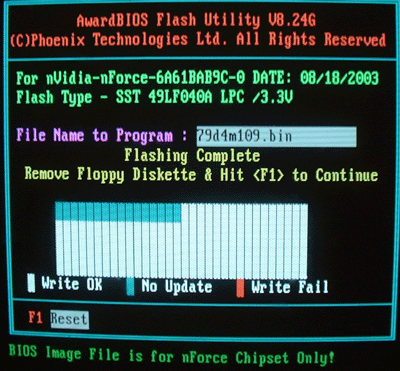 The software will now start updating your BIOS. It will take several minutes, during which you must make sure NOT to power off or reset your system under any circumstances!
Once the BIOS flashing process is complete, you will get a status report (generally 'ok' or 'failed') and be prompted to restart your system.