Almost all motherboard manufacturers offer a utility that will give you the exact model and BIOS revision date of your board. MSI has their "Live Update" program, Aopen their "Aoconfig" software, and so on. Generally this utility will come included on the CD bundled with the board, but failing this, you should be able to download the company specific software from the manufacturer's site under the 'utilities' or 'tools' category.
Here's some links to Asus, MSI, ABIT and Gigabyte's BIOS support pages to get you started. If you don't know the website of your motherboard manufacturer, have a look below, or run a search through Google.
Once you find the website for the maker of your motherboard, look around for their BIOS update tool, if they have one. If they do, download, install and run this program to find the exact make and model of your board.

As an example of what to expect, at right is a screen shot from MSI's software to give you an idea of what you are looking for.
Once you have the exact BIOS revision number which is currently being used by your PC, we next need to find out what BIOS revisions are available for your motherboard. In most cases, you can go directly to the manufacturer's product page for the board for a link to the available BIOS downloads. Also check the downloads, or support sections of their website.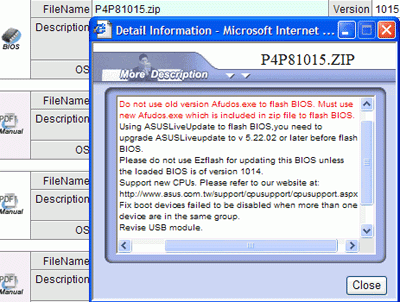 Some of the software utilities, for example MSI's Live Update, will search for BIOS and driver updates for you, and handle the downloads.
For the most part though, you'll have to take the information you have learned about your motherboard model, and BIOS revision and go hunting through the manufacturers website. When you find the page with the BIOS updates for your particular motherboard, select the latest update and download it to your desktop. Generally speaking, if your board is using BIOS revision 3.10, you will want to download a later revision; this could be 3.10b, or 3.22 as an example.