Gigabyte GV-RX60X128V PCI-E Videocard Review
---
ATi is the darling of the videocard sector, producing faster GPUs more frequently than the competition, and by that effort, capturing the attention of die hard gamers looking for a leg up on ever more intensive games. While nVIDIA have caught up to ATi's juggernaut of Radeon graphics processor releases this year, the damage has been done to nVIDIA's once luminescent green reputation.
With PCI Express emerging as the new battleground, ATi are hedging their bets on exploiting the differences in HSI chip implementation between itself and nVidia. Of course, consumers are left in the dust of marketing doublespeak as doesn't really matter that nVIDIA employs a HSI chip between the PCI Express bus and GPU. AGP8X videocards don't even take full advantage of the bandwidth available to them, and you can bet it will be some time till we start pushing the limits of PCI Express.
In any event, we have some new and exciting technology to cover as PCstats.com reviews the PCI-Express x16 Gigabyte GV-RX60X128V videocard. Built around the solid Radeon X600XT core, the Gigabyte GV-RX60X128V offers quick performance figures for a mainstream card, and takes over right where the Radeon 9600XT left off.

Gigabyte GV-RX60X128V



Includes:

Users Manual, Driver CD, PowerDVD 5 CD, Rainbow Six 3: Raven Shield CD, DVI to analog converter, VIVO Cable
The Gigabyte GV-RX60X128V is equipped with 128MB of Hynix 2.5ns DDR DRAM, a nice little heatsink, and Video in / Video out. Gigabyte has bundled in a few extra's, such as a DVI-to-analog converter (for dual monitors), a full version of PowerDVD 5 and Rainbow Six 3: Raven Shield. The VIVO cable is about 120cm in length, so its easy to hook up the PC to a TV. It's a much better option than having those small VIVO boxes that stick out only a few cm from the computer.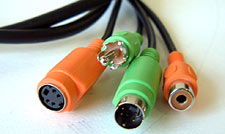 The first crop of nVidia's PCI-Express cards all feature an external HSI (High Speed Interconnect) chip between the PCI Express bus and the videocard core, but ATI have taken a different route. The Radeon X600XT core already contains a PCI Express interface, so no bridge chip is used.
As you've probably noticed, the Gigabyte GV-RX60X128V uses a small aluminum orb style cooler on the X600 XT core. When you think about it, it's pretty amazing that ATi has not had the heat problems that have plagued nVIDIA these last few years.... in any case, the fan is near silent during operation. Now, time for a little overclocking!